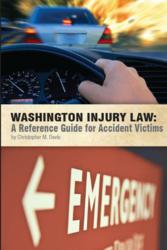 Along with the NHTSA, I encourage every driver to power off their cell phones and other electronic devices while operating a motor vehicle.
Seattle, WA (PRWEB) April 13, 2013
The National Highway Traffic Safety Administration (NHTSA) recently released the results of an in-depth survey which indicated that although American drivers understand the dangers of texting while driving, many of them continue to use electronic devices behind the wheel on a regular basis.
The results of the NHTSA study were shocking, and are also the main reason that Seattle attorney Chris Davis believes that more needs to be done to deter drivers from using electronic devices while they are operating a motor vehicle.
"The NHTSA's study says that approximately half of all drivers who were surveyed will answer an incoming call while they are driving, which not only requires a significant amount of attention from the driver but also puts other drivers nearby at risk," says Davis, who has personally represented countless car accident victims in his home state of Washington.
A particularly eye-opening statistic presented in the NHTSA's survey was the fact that at any given time in America there are an estimated 660,000 drivers using cell phones and other electronic devices while behind the wheel. The NHTSA says that number has held relatively steady since 2010.
From a statistical standpoint, driver education and awareness hardly seem to be the root of the issue when it comes to distracted driving. The study also found that 74 percent of those surveyed support a ban on hand-held cell phone use and 94 percent support a ban on texting while driving.
"Along with the NHTSA, I encourage every driver to power off their cell phones and other electronic devices while operating a motor vehicle," Davis added. "Distracted driving drastically increases the risk of injury and death on American roadways and thousands of lives are forever changed every year as a result."
At this point, a total of 39 states and the District of Columbia have enacted bans on texting while driving for all drivers regardless of age. Additionally, 10 states and the District of Columbia prohibit all hand-held cell phone use behind the wheel.
Davis, the founder and principal attorney at the Davis Law Group in Seattle, has also authored several informational legal guides designed to better educate accident victims about their legal rights in the event of an accident. These books, which collectively make up the Washington Accident Books series, are available free of charge to accident victims in Washington state.
Anyone interested in ordering their free copy of one of Mr. Davis's popular legal guides should visit http://www.WashingtonAccidentBooks.com or contact the Davis Law Group by calling 206-727-4000.
About Chris Davis
Christopher M. Davis, founder of the Davis Law Group, has been a licensed attorney in the state of Washington since 1993. He has tried dozens of personal injury cases to verdict and has successfully handled and resolved hundreds of accident claims. He has been a Washington 'Super Lawyer' for seven years in a row for his expertise and success in litigating personal injury claims. You can learn more about the firm by visiting: http://www.DavisLawGroupSeattle.com.