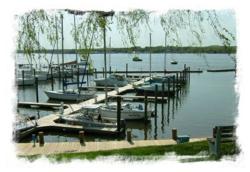 The friendly club at the peak of the Chesapeake
North East, MD (PRWEB) April 16, 2013
North East River Yacht Club is hosting an Open House on Sunday, April 21st from 2:00 to 4:00pm. Stop by to learn about the many amenities, Power, Sail and Social activities and benefits NERYC has to offer. Visitors are welcome to stay and try our restaurant which opens at 4pm.
Slips with Floating Docks: The Club's Dockmaster will be available to discuss slip accommodations and moorings for the 2013 boating season.
Junior Sail Program: Parents and children age 7 to 18 can also preview NERYC's popular summertime "Learn to Sail" program and see the club's fleet of training boats and boathouse. The program offers instruction at all levels – beginners, intermediate, and advanced racing.
Full Service Restaurant: NERYC's restaurant staff will be serving complimentary menu samplers during the Open House, and be available to discuss its capabilities for events such as business meetings, parties and weddings. The restaurant and bar will open to serve members and visitors for its regular dinner service beginning at 4:00pm.
Free Vessel Safety Checks: In conjunction with the Open House, the Northeast River Power Squadron will be conducting Free Vessel Safety Checks to area boaters at NERYC's marina from 12:00pm until 5:00pm. A Vessel Safety Check usually takes 15-30 minutes, depending upon the size of the boat, and vessels passing safety checks are awarded a U.S. Coast Guard/Auxiliary Decal that informs Coast Guard, Auxiliary, Harbor Patrol, Sheriff's & Police, and other boating law-enforcement & safety agencies that your boat was in full compliance with all Federal and State boating laws during a safety check for this year. This Vessel Safety Check is 100% Free of Charge. Those interested can contact the NERYC office at (410) 287-6333 to schedule an appointment, or just come to the Club between 12:00pm and 5:00pm on April 21st.
About NERYC
Founded in 1930, North East River Yacht Club offers an exceptional setting for recreational boating on the Upper Chesapeake Bay. With a magnificent waterfront property, well maintained clubhouse, restaurant & bar, and a modern marina with floating docks, members and guests enjoy an extensive calendar of events and programs year-round. The club is conveniently located to Northern Maryland and Delaware, Southern New Jersey, and Southeast Pennsylvania, and within easy access of I-95.
80 Bayside Drive | North East, MD 21901 | (410) 287-6333