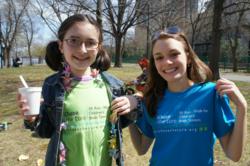 iChase the Cure has given families more hope which is something that is ultimately priceless.
Boston, MA (PRWEB) April 13, 2013
iChase the Cure is again raising funds for a formidable cause. On Saturday, April 13th, the fourth annual 5K walk/run will be held in honor of acquiring funds for research into pediatric brain tumors. All proceeds will be sent to the PLGA Foundation, d.b.a. A Kid's Brain Tumor Cure.
This year's event will be held at the DCR Charles River Esplanade in Boston, Massachusetts. Supporters of the cause are welcome to contribute in any fashion and can find further event details at http://iChaseTheCure.org/home/events/race-information/.
Sadly, approximately 1,500 children in the US are diagnosed with a brain tumor each year. Most are inoperable. iChase the Cure is working to better their chances.
As one of the walk's sponsors, Rush Order Tees created t-shirts in repeating years to promote the group's fundraising efforts and build awareness of the cause. On the exceptional work of iChase the Cure, the company's Public Relations Director, Melissa Reed commented, "It truly is an amazing story that these young adults have charioted not only raising awareness of these diseases but making a difference amongst the children and families effected by life altering tumors. iChase the Cure has given families more hope which is something that is ultimately priceless."
iChase the Cure founder Danielle Volman noted the company's speed, value and support of the cause. "Our annual 5K was less than a week away and we were in danger of not having any shirts for our participants. Rush Order Tees was not only able to get us the shirts on time, but even beat out the competition's price as well. They were a true life saver!!"
Ms. Volmer and the iChase team are always seeking individuals who are looking to volunteer their time and give to the community. This proves to be a rewarding experience for the volunteer and the impacted families. The goals of the organization are to get the word out that funding can make a difference, and to help to financially provide more availability for research. This admirable non-profit organization is committed to helping fund the medical field as researchers continue to establish clinical trials and studies to aid these children.
iChase continues to create new opportunities for involvement with plans for a 2014 fundraiser in Charlotte, NC.
Learn more at http://iChaseTheCure.org
About IChase the Cure
IChase the Cure is a non-profit organization raising funds for a multitude of causes. Founded in 2007 by Danielle Volman, a Boston University student took the lead in organizing a 5K run/walk to raise funds for neuroblastoma, a pediatric cancer of the nervous system. Since 2007, over $60,000 has been raised to help fund research and aid families for a number of cures, including pediatric brain tumors, hepatitis C, multiple sclerosis, and HIV/AIDS.
About Rush Order Tees
Rush Order Tees, a Printfly Company, was founded in 2001 and has grown to be one of the nation's leading screen printers and embroiderers providing custom t-shirts to businesses, organizations and consumers in the US and Canada. The Company's recently enhanced design studio portion of its website allows users to visualize and create t-shirt designs online on their product of choice.
Learn more about Rush Order Tees at http://RushOrderTees.com