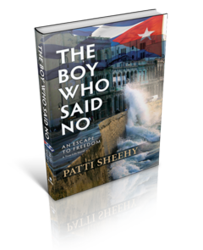 In The Boy Who Said No Frank Mederos exhibits uncommon courage in making his way to freedom. Against great odds he manages an escape worthy of the best fictional hero, only he pulled it off in real life! —M. Ann Jacoby, author of Life After Genius
Longboat Key, FL (PRWEB) April 19, 2013
This June, Oceanview Publishing will have the honor of releasing a very special novel, The Boy Who Said No: An Escape To Freedom by Patti Sheehy. Although it will be marketed as historical fiction, 'Boy' is directly based on one young man's escape from Cuba shortly after the takeover by Castro's regime. No other novel has captured the beauty, the passion, the pride and the struggles of the Cuban people during the fall of Batista and the rise of the Castro regime. The book has already garnered praise as a treasure for both the adult and young adult reader.
The Boy Who Said No is based on the life story of Frank Mederos who was born and raised in Guanabacoa, Cuba. Through a number of childhood experiences and the influence of his grandfather, Frank grew to despise the policies of his government.
As Frank matures, he falls in love, is drafted into the army and becomes a member of Castro's Special Forces. In his rank, he is privy to top-secret military information and is placed in direct conflict with some of the most powerful people in the Cuban military.
After the author, Patti Sheehy, was introduced to Frank by his daughter, she began to write his story as part of his family's history. But after several meetings with Frank, she decided that this story was far too compelling not to share with a wider audience. To advance the plot, Sheehy fictionalized some descriptions and dialogue based on interviews with Frank and with information he obtained from his family, friends and fellow soldiers after the fact.
Since these events happened several decades ago, and since Frank does not have firsthand knowledge of certain events and conversations that occurred during his absences, The Boy Who Said No must be marketed as historical fiction, a "true life novel." Some names have been changed to protect the privacy and safety of family members and individuals still residing in Cuba. The material is presented as well as Frank's memory serves.