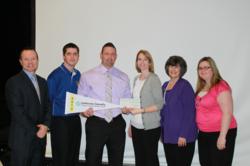 "Youth sports teach teamwork, discipline and that hard work pays off. They're a valuable complement to lessons learned in school."
Thomas R. Brown
San Mateo, CA (PRWEB) April 15, 2013
Shrinking state education budgets and pressure to improve academic performance have forced many schools to trim and in some cases even eliminate athletics. Oftentimes coaches subsidize programs out of their own pockets. To a greater extent, families are being asked to foot the athletics bill – and some students from economically disadvantaged homes end up not being able to participate.
This is the third year the company is helping ensure youth can participate in athletics programs. The California Casualty Thomas R. Brown Athletics Grant program began with $25,000 in grants across four states. In 2012, the program awarded a total of $75,000 to 59 high schools across the country. There were 457 grant applications this year, a 70 percent increase. The 85 selected high schools received grants ranging from $1,000 to $3,000 which will be used for equipment, uniforms, fees and other costs for athletics programs.
Chairman Emeritus Thomas R. Brown, a retired third generation leader in the California Casualty family business, said his own athletic participation as a youth impacted his self-esteem and leadership development.
A detailed listing of this year's grant recipients follows. For more information about the Thomas R. Brown Athletics Grant program, visit http://www.CalCasAthleticsGrant.com.
"We understand the struggles education and school administration associations face every day," said Doug Goldberg, Senior Vice President. "This is our way of giving back."
California Casualty is a 99-year-old policyholder-owned company headquartered in San Mateo, CA with service centers in Arizona, Colorado and Kansas. Learn more about its auto and home insurance for firefighters, peace officers, educators and nurses at http://www.calcas.com.
2013 Thomas R. Brown Athletics Grant Recipients
Alabama
Paint Rock Valley High School
Pell City High School
Spanish Fort High School
Arkansas
North Pulaski High School
Arizona
Camelback High School
Round Valley High School
California
Buena Park High School
Centennial High School
Chico High School
Covina High School
Donald Jamison High School
Galileo Academy of Science and Technology
Leuzinger High School
Livermore High School
Loara High School
Lone Pine High School
Mountain Empire High School
San Bernardino High School
Shandon High School
Colorado
Basalt High School
Englewood High School
Pagosa Springs High School
Connecticut
Hamden High School
Stratford High School
Delaware
Lake Forest High School
Florida
Miami Jackson High School
Pine Ridge High School
Georgia
R.L. Osborne High School
Iowa
New Hampton High School
Idaho
Lakeland High School
Pocatello High School
Illinois
Harrisburg High School
Indian Creek High School
Mahomet Seymour High School
Sparta High School
Indiana
Evansville Central High School
South Dearborn High School
Wayne High School
Kansas
Bonner Springs High School
Skyline High School
Kentucky
Union County High School
Wolfe County High School
Maine
Bangor High School
Maryland
Potomac High School
Minnesota
Lincoln High School (Esko)
St. Michael-Albertville
Missouri
Hancock Place High School
Joplin High School
Raytown South High School
Nebraska
Gordon-Rushville High School
Nevada
Shadow Ridge High School
New Hampshire
Salem High School
New Jersey
Roxbury High School
Sussex County Technical School
New Mexico
Espanola Valley High School
Mayfield High School
Ohio
Cardinal High School
Fort Loramie High School
London High School
(Ohio, continued)
Trotwood Madison High School
Oklahoma
Bluejacket High School
Oregon
Douglas McKay High School
Grant Union Junior/Senior High School
Jefferson High School
Pennsylvania
Central Tech High School
North Clarion High School
Oil City Senior High School
Schuylkill Haven High School
Youngsville High School
Rhode Island
Coventry High School
South Carolina
Barnwell High School
Tennessee
Cornersville High School
Texas
La Marque High School
Lanier High School
Utah
American Fork High School
Kearns High School
Vermont
Essex High School
Virginia
Armstrong High School
Courtland High School
Washington
Pe Ell School District #301
Lakes High School
Willapa Valley Middle & High School
West Virginia
Preston High School
Wyoming
Natrona County High School
Torrington High School