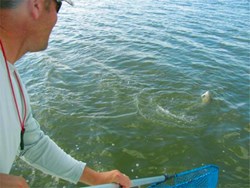 "I grew up in Jacksonville listen to Free Bird and Sweet Home Alabama, when I heard Jimmie wanted to catch some fish, I had to take him out
St. Augustine, Florida (PRWEB) April 13, 2013
Captain Matt Valliere, the award winning master fisherman and owner of St Augustine Florida based Backwater Charters got the honor of hosting a music superstar on a redfish expedition. Jimmie VanZant, part of the famous musical family of Lynyrd Skynyrd, wanted a brake after his recent studio stint putting the finishing touches on his newest single "Unfinished Life".
"I grew up in Jacksonville listen to Free Bird and Sweet Home Alabama, when I heard Jimmie wanted to catch some fish, I had to take him out," sad Matt Valliere the fishing ledged of East Central Florida. "He came with fishing in mind and we did great but he let me hear the new songs, and wow, that sound never gets old."
Jimmie VanZant commented, "We had a lot of fun; I am a fan of Captain Matt now!" VanZant's new single "unfinished life" is in in sneak preview on YouTube, "The response has been great, getting back to my roots in Florida has centered me again and this song reflects the roots my mom instilled back in Jacksonville." Jimmie VanZant's solo career includes the theme for the popular TV series "The Sopranos"
Captain Matt Valliere is known as the fisherman's fisherman, not only a sought after guide, but a top competitive fisherman as well. Matt won awards in the recent IFA Redfish Tour and plans to hit the tour again this year. "Fishing is my life, some see "captain" as a job and they do it well, I captain to be out fishing, I'm out fishing whether or not I have a charter."
Thomas R. Reich, Marketing Director of BizCentral USA, who manages the marketing for Backwater Tour Company said, "I use something called Deep Rich Data to promote Matt and his charter business, He has a locally based business, but it is very much national, people come to Florida and want a good fishing experience, Matt's their man." Tom Reich continued, "I had worked with Jimmie VanZant in the past and when I heard he wanted to relax fishing, I knew where to send him, and who to send him to!"
Captain Matt Valliere is available exclusively through backwater Tour Company 904.509.1662, and bookings are made up to a year in advance to accommodate out of town fisherman from all over the world coming to the Orlando/Daytona/St. Augustine area. Jimmie VanZant's new single "Unfinished Life" can be seen on YouTube now and will be included in the playlist of his world tour "Feels like Freedom" this summer.
Matt will be fishing!