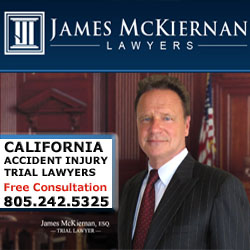 Knowledge is power – we hope the information we provide proves to be valuable to clients and potential clients
San Luis Obispo, CA (PRWEB) April 16, 2013
The San Luis Obispo law firm of James McKiernan Lawyers recently launched a new website, providing a valuable online legal resource to current and potential clients.
The site offers helpful information to remove some of the fear and uncertainty from the legal process, including basic information on California's personal injury laws, including information on auto and truck accidents, slips and falls, construction accidents, insurance claims and more.
"Knowledge is power – we hope the information we provide proves to be valuable to clients and potential clients," said Paso Robles auto accident lawyer James McKiernan. "We certainly hope they will use our site as a resource to answer initial questions, and then let us guide them through the legal process personally."
Website visitors learn how Mr. McKiernan and the experienced staff at James McKiernan Lawyers can assist them with their legal issue. The firm has developed a reputation for maintaining high ethical standards while aggressively representing clients throughout California in various legal matters.
About James McKiernan Lawyers
For over 30 years, the San Luis Obispo personal injury attorneys at James McKiernan Lawyers have represented people San Luis Obispo, Lompoc, Santa Maria, Paso Robles and throughout the Central Coast of California who have been injured due to the negligence or wrongful conduct of another and deserve compensation for their injuries. In over 15,000 cases and over $200 million in verdicts and settlements, James McKiernan Lawyers has obtained the largest injury verdicts and some of the largest settlements in San Luis Obispo County.
The attorneys at James McKiernan Lawyers concentrate on these practice areas:

Motor vehicle accidents, including cars, trucks, motorcycles, trains and boats
Dog bites
Pedestrian and bicycle accidents
Premises and products liability
Real estate
Estate planning
Elder abuse
With state-of-the-art equipment and technology combined with teamwork by a group of case managers, assistants and professionals, their lawyers handle cases quickly, efficiently and effectively.
For more information please visit the firm's website or call 805.242.5325. James McKiernan Lawyers currently represents clients in and around the Central Coast of California, including San Luis Obispo, Paso Robles, Santa Maria and Lompoc.
James McKiernan Lawyers
21 Santa Rosa Street, Suite 300
San Luis Obispo, CA 93405
805.242.5325