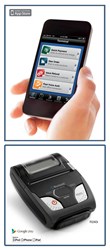 (PRWEB) April 15, 2013
New features on USAePay iPhone App Update Version 1.2.6:

Supporting R240i Bluetooth
New Report Button on the History Screen (View or Print CC Sales, Cash Sales, Refunds, Tips, Collected Tax, Net Sales, and Total Sales)
Displaying discounts and tips on PaySaber print receipts
Automatic sync with gateway when updating category
USAePay iPhone App has a database built into the application making it easy to manage products and inventory. The app supports hand-entered card numbers and product information. If a USAePay merchant account is needed to use the USAePay app, please contact your local reseller to get started.
Learn more about USAePay's iPhone App Update Version 1.2.6 and download it for free on iTunes Store. Go to http://ow.ly/k1bAf
About USAePay
USAePay is a family-owned company based in Los Angeles, CA. For over 15 years, the company has been assisting merchants with payment solutions that fit their needs. USAePay's payment gateway supports most of the major platforms in the credit card industry and works with some of the leading check platforms. USAePay is pleased to work with most of the larger merchant service banks in the US and Canada. For more information, please visit http://www.usaepay.com or call 866.USA.EPAY (872-3729).