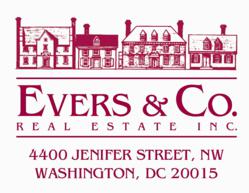 Washington, D.C. (PRWEB) April 12, 2013
Spring is off to a sizzling start in the close-in D.C. metro area housing market with a welcome and surprising surge in home sales in March and signs that more properties are finally coming on the inventory-starved market. The dollar volume of sales in March was up 21 percent over March 2012, the average sales price was up an impressive 8.5 percent and the number of days on the market was down 32 percent compared to last March.
"While we always anticipate more sales during the busy spring market, the big increase in the dollar volume of sales in the D.C. area in March was surprising and reiterates how strong our market is," says Donna Evers, president and broker of Evers & Co. Real Estate. "The pace of this market has shifted into high gear as we are finally starting to see more properties being listed in our area."
Evers says the combination of increasing buyer confidence and demand, increasing sales prices and the sustained strength of the close-in D.C. area market is motivating more homeowners to list their properties in this very strong sellers' market.
"For well over a year, we've had such an acute shortage of housing inventory in our area, so to finally have sellers coming back into the market is welcome news for everyone," says Evers. "Properties that show well and are priced correctly should do very well in this sellers' market and buyers who have been vying for months to purchase a home now have more options."
Evers notes that even with the increase of listings, the inventory will remain tight in the upcoming months in the D.C.-metro area. Buyers can still expect to be in competition with other buyers, especially for properties in popular locations in the D.C.-metro area. Potential buyers need to be prepared to act quickly on properties they want to buy.

Statistics are taken from the Metropolitan Regional Information System for three areas: Washington, D.C.; Montgomery County in Maryland; and Fairfax County, Arlington, Alexandria and Falls Church in Virginia.
About Evers & Co.
Founded in 1985 by Donna Evers, Evers & Co. Real Estate, Inc. maintains its success through a strong referral base and agents who enjoy a premier reputation for their expertise and in-depth knowledge of Washington Metro Area homes and neighborhoods. Evers & Co. is home to 100 licensed real estate professionals with decades of combined experience, who enjoy access to a first-of-its-kind Agent Resource Center. The agency is the largest woman-owned and-operated residential real estate firm in the area and a member of Unique Homes Affiliate Network, Who's Who in Luxury Real Estate and FIABCI, the largest international real estate organization in the world. In addition, the agency has an alliance with My Home In Paris, a residential real estate firm in Paris, France. For more information about Evers & Co. Real Estate, visit http://www.eversco.com.
# # #