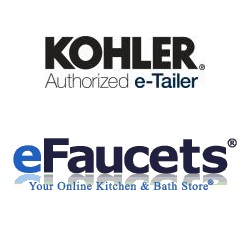 We are very excited in partnering with Kohler who, in our view, is the most recognized brand in the industry.
Racine, WI (PRWEB) April 15, 2013
eImprovement.com Stores, an online home improvement retailer with storefronts such as the award winning eFaucets.com, announced today that shoppers headed to eFaucets.com in search of Kohler product will soon be able to shop items from the manufacturer in a special online store within the e-retailer's web site. It's all part of what eFaucets calls its "Style and Elegance" site transformation strategy to increase the showroom gallery experience online.
In December eFaucets become one of Kohler's exclusive distribution partners along with its supply and showroom operations. Kohler identified 192 ecommerce sites selling its brand on the internet and narrowed it down to 19 websites. eFaucets ranks in the top tier of those sites. The arrangement will give Kohler top placement on the home page, category pages, search result headers, and marketing campaigns and will make Kohler the premier brand sold on eFaucets.com.
We are very excited in partnering with Kohler who, in our view, is the most recognized brand in the industry," said eImprovement COO Michael Fox, "It's the perfect marriage of technology and plumbing. Kohler has been the innovative leader in plumbing technology with favorites such as the luxury Numi Toilet, Moxie showerhead with Bluetooth wireless speaker, Vibracoustic baths with music vibration, Whitehaven retrofit apron sinks, Flipside hand shower, Hydrorail shower columns, C3 Electronic bidet seats and the Sensate Touchless faucet."
"In the past we have always viewed our site as the endless aisle wanting to add hundreds of brands and options to the platform." said Nick Fox CTO of eImprovement. "The problem is that you can't truly partner with that many brands. You need to partner with the best brands like Kohler who have resources to truly partner and dramatically drive business growth."
The website will start rolling out improved content sections for Kohler, planning resources, design galleries, video galleries, product reviews and product demonstrations. Customers will be able to engage with trained Kohler specialists via live chat on Kohler pages. The website caters to a predominately upper scale customer and that clientele expects to visually see a high end showroom experience online.
About eImprovement.com Network Stores
Established in 2003, eImprovement.com, LLC, parent of eFaucets.com has quickly become the leading destination in online decorative plumbing and faucet sales by striving to provide shoppers with the best possible service and selection. eFaucets is consistently recognized as an online leader of faucets, sinks, fixtures and accessories for the kitchen and bath. eFaucets.com currently showcases hundreds of thousands of products from over 200 faucet and plumbing fixture brands. eFaucets was previously recognized as a BizRate "Circle of Excellence" Gold Honoree. eFaucets is proud to be rated Excellent by StellaService. eImprovement is headquartered in Racine, WI with distribution centers nationwide along with a brick and mortar showroom business. For further information, visit eFaucets.com.