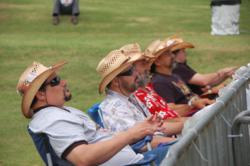 Year after year we think there is no way next year will top this year, but it always does. Then when you think it couldn't get any better, with all the people we met at Wildflower!
Richardson, TX (PRWEB) April 15, 2013
Loss often brings people together. In this case, it's the five Moorman brothers – Thomas, Gene, Harold, Lance and Eric. With the exception of Harold, who missed the first three years due to illness, they will attend their seventh consecutive Wildflower! Richardson's Arts and Music Festival May 17-19, 2013. The Charlie Daniels Band will headline Friday, May 17, with Gretchen Wilson opening.
After the deaths of the brothers' parents – their father in late 2004 and mother two months later, Tom said, "My brothers and I were talking about how short life is, that we didn't see enough of each other with work and families taking up all of our time. We decided we were going to find something we could all do and at least get together once a year."
Time passed. In early 2007, Tom and Lance decided that if they didn't put something together, it wasn't going to happen. They discovered Richardson's Wildflower! Festival and "brothers weekend" was born. Four come up from Houston.
"The thing that keeps us coming back is…the festival itself is awesome! Great music, good food, a lot of things to do and see – and friendly people! It's families enjoying all sorts of activities together," Tom enthused. "In the first two years my brothers and I met almost everyone that works and has anything to do with the festival. We've formed some long-lasting relationships."
"The first year the four of us bought cowboy hats from a vendor," Tom said. "We always sit on the front row in front of the stage. Some of the workers noticed us, started talking and found out we were brothers. They named us the Four Brothers, and it stuck. Everywhere we walked, other workers would stop us and ask if we were the four brothers they had heard about. The next thing we knew, our pictures are on the Wildflower! website. How cool is that? So every year we buy new hats and sit on the front row."
Among the Moorman brothers' most memorable experiences has been meeting members of classic rock bands that perform at the festival, such as John Waite, The Guess Who and Eddie Money. "We've met just about all of them, gotten autographs and taken pictures with them," Tom noted. "Year after year we think there is no way next year will top this year, but it always does. Then when you think it couldn't get any better, with all the people we met at Wildflower!…they let us go backstage for meet and greets with some of the bands. They are some of the nicest people I have ever met!"
The award-winning, multi-day festival – featuring live music, arts and crafts, children's activities, interactive exhibits, acrobats, and more – will be held at Galatyn Park Urban Center, 2351 Performance Dr., Richardson, Texas 75082. Hours are 6 p.m. – midnight Friday, 11 a.m. – midnight Saturday, and 12:30 – 8 p.m. Sunday. New to Richardson's Wildflower! this year is the Alamo Drafthouse Cinema Movie Night on Saturday, May 18 at 9:15 p.m.
"Wildflower! has never been a disappointment. The festival is a remarkable place. Every year there's great music, friendly people and always a good time," Tom explained. "There is just so much to do and see. It's a great place to bring your family – to bring your kids and enjoy the day or the weekend. There are plenty of things for kids to do. I look forward to Wildflower! every year. It's not just a rock concert. It's also an arts and crafts show. There are lots of booths and tents with things to buy. The festival has all types of music, so there's something for everyone. I can tell you that as long as there's a Wildflower! Festival, my brothers and I will be there! There's no place better than Richardson's Wildflower!"
Tickets go on sale April 15 at area Tom Thumb stores or through Wildflower!'s website: http://www.wildflowerfestival.com/tickets.html. A three-day pass is $30, single-day adult is $20 and kid's pass (age 5-12) is $3. On Sunday, May 19, kids 12 and under get in free with a paid adult courtesy of Bank of America. Sunday is also half-price day for adults – tickets are only $10 courtesy of Cisco Systems. Check the website for the festival's 15 for $15 group ticket promotion and for directions to the festival.
Other entertainment includes:
Friday – May 17, 2013
Cowboy Mouth – bits of gospel-punk with shards of Cowpunk
Gretchen Wilson – country music's "Redneck Woman"
The Charlie Daniels Band – country and Southern rock music legend
Spin Doctors – '90s alternative rock band
Uncle Kracker - pop/country crossover hitmaker
Rocket Man – the Best of Elton John tribute show
Eliza Gilkyson – Austin Music Hall of Fame inductee
Le Freak – The Greatest Disco Band In The World
Saturday – May 18, 2013
Toadies - home grown alt-rock heavyweights
The Reverend Horton Heat - country-fed punkabilly
Blue Oyster Cult – heavy metal/psychedelic rockers
Grand Funk Railroad – hard rock, blues band from the '70s
.38 Special – Southern country / blues rockers
Eleven Hundred Springs – Texas country rock band
Rocket Man – the Best of Elton John tribute show
Slaid Cleaves – iconic singer/songwriter
Sunday – May 19, 2013
Jolie Holliday – young and dynamic country musician from Richardson
Robert Earl Keen - Texas singer/songwriter
Ray Wylie Hubbard - elder statesman of the Texas music scene
Terri Hendrix with Lloyd Maines – accomplished Americana singer/songwriter duo
Rocket Man- the Best of Elton John tribute show
Wildflower! Richardson's Arts & Music Festival began in 1993 as a small community event held in a local park in northeast Richardson, Texas, to celebrate the acres of wildflowers planted around the city. Twenty-one years later the festival has become the premier music event in the region with more than 1,200 volunteers and attendance surpassing 60,000 a year. Wildflower! Richardson's Arts & Music Festival is produced by the City of Richardson.
This year's sponsors are ViewPoint Bank, Methodist Richardson Medical Center, metroPCS, Coca-Cola, Budweiser, Blue Cross Blue Shield of Texas, Sherwin-Williams, Fossil, Credit Union of Texas, Atmos Energy, Argo Data, Reliable Chevrolet and Tom Thumb. Media Sponsors include: The Dallas Morning News, Collin County Business Press, Jack FM, Star Community Papers, 95.3 The Range, Richardson Living magazine and The Dallas Observer.
For more information, go to:
Web: http://www.wildflowerfestival.com/
Facebook: http://www.facebook.com/wildflowerfestival
YouTube: http://www.youtube.com/playlist?list=PL55C1EC2A1E2B7AE4
Mobile: text WFF to 88500
MEDIA CONTACT:
Jo Trizila TrizCom Inc. Office: 972-247-1369
Mobile: 214-232-0078
jo(at)TrizCom(dot)com
ON SITE MEDIA CONTACT:
Greg Sowell
Director of Communications
City of Richardson, TX
Mobile: 972-897-2762
E-mail: greg.sowell(at)cor(dot)gov