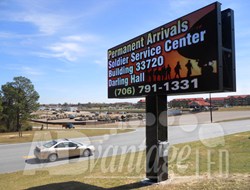 "...a high-quality product at a guaranteed low price...a friendly staff that always seem willing to help and are confident in their product." Nathan Hoeller, DFMWR
Augusta, GA (PRWEB) April 15, 2013
ADvantage LED Signs spokesperson Richard James announced the completion of multiple Military LED Signs and installation at multiple gates for Ft. Gordon in Augusta, GA. The LED billboards will be used for advertising community events and special messages for the base and surrounding areas.
According to Nathan Hoeller, DFMWR Marketing and Advertising Creative Director, they are very pleased with the signs from ADvantage LED. Hoeller says, "Not only are they offering a high-quality product at a guaranteed low price, but they also have a friendly staff that always seem willing to help and are confident in their product."
Hoeller continued, saying, "Purchasing the new LED sign from ADvantage LED took our road-side advertising to the next level! At a massive 8 foot by 18 foot size and a 10mm iPixel resolution, you can't miss these ads. I think my favorite part about these units is the simplicity of uploading the content. We're using SM Infinity™ which is a web-based application that communicates directly to the signs through the Internet giving access to multiple permission-based users. It accepts a wide variety of formats; both static images as well as video files. Also, the scheduling options give us full control over the length of time each ad is shown and how often it appears in the loop. We can even set a start and end date so the message goes away right after the event."
From the ADvantage perspective, Judy Dennis, Business Development, shared, "Working with Ft. Gordon and their team of professionals was great. They have a very progressive program developed using LED Communications which will deliver information on services and conditions to all Military personnel at Ft. Gordon."
The US ARMY's Fort Gordon installed three new ADvantage LED Signs. At approximately 8' x 18', in dazzling 10mm iPixel full color resolution, these billboards will increase communication and awareness to their Service Members. The LED signs display events and special appearances as well as public service announcements.
ADvantage LED spokesperson James says the government sector needs to be able to keep its residents always informed and up-to-date on important information. James emphasizes, "What better way to achieve this than with a simple to use electronic message center in front of government buildings and bases. They are expected to be able to remind residents of important dates, deadlines and events, display community events, activities, and resources."
About ADvantage LED Signs:
Established in 2009, ADvantage LED Signs is a US manufacturer of LED signs and LED Billboards, selling direct to businesses and organizations nationwide. ADvantage LED Signs operates as a total turn-key solution provider, stating that no job is too big or too small.