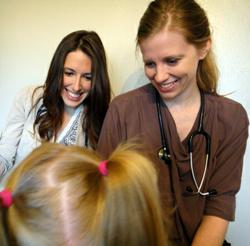 We believe that the health of the individual and the health of the family are linked, and that taking into account the world in which the child must function leads to long-term, sustainable change for the whole family.
Seattle, WA (PRWEB) April 15, 2013
According to the Centers for Disease Control and Prevention, Autism Spectrum Disorders affect one in 88 children; a more recent study indicates that this number may be as high as 1 in 50. Although most children are diagnosed at an early age, a standard treatment option does not yet exist. Integra Natural Wellness utilizes a naturopathic approach including counseling, dietary change, herbal medicine, homeopathy, nutrient therapies and physical medicine. This integrative approach does not rely on pharmaceuticals, but also does not interfere with them if already in use.
"At Integra Natural Wellness we use a Family Care Model in our treatment approach," said Dr. Carrie McMillin, co-founder and owner. "Two of the principles of naturopathic medicine are to treat the cause and treat the whole person. We believe that the health of the individual and the health of the family are linked, and that taking into account the world in which the child must function leads to long-term, sustainable change for the whole family."
Living with ADHD, ASD, and anxiety can take a toll on those who love and care for the affected individual. Integra Natural Wellness founders believe these caregivers, siblings, and parents need to be encouraged to focus on their health as well. Rather than just treating symptoms of the conditions, Glynn and McMillin support the whole family throughout the process of making long-term change.
"As part of our Family Care Model, we offer the option of home visits," said Dr. Bethany Glynn, co-founder and owner. "Many kids and teens with anxiety, ASD, and even ADHD, can present very differently in an office setting than at home in their own environment. Home visits allow us to assess these children amidst all of their normal surroundings, giving us a more accurate portrayal of behaviors and coping mechanisms in the child's day-to-day life. Seeing the child in the home also allows us to create treatment plans that are realistic, achievable, and can benefit the whole family."
The Integra Natural Wellness approach begins with an initial 90-minute visit where both Glynn and McMillin participate to allow for a more complete understanding of the patient from multiple perspectives. Then a unique treatment plan is initiated taking into consideration the child's physical, psychological, emotional, and social well-being. Being licensed professionals in primary care for all ages, Glynn and McMillin also provide the option to treat other members of the family in a way that is consistent with and complementary to the treatment plan already in place for the child.
"An overwhelming amount of information exists on the diagnosis and treatment of children with anxiety, ADHD and autism," McMillin said. "We are here to help families navigate all of the options available, and support them as they integrate these changes into their lives."
Integra Natural Wellness is open 9 a.m. to 2 p.m. Friday through Monday at its Seattle location - 2811 E Madison Street, Suite 203 in Madison Valley - and open on Saturdays at its Issaquah location at 48 Front Street N. For more information visit the web site at http://www.integranaturalwellness.com.
About Integra Natural Wellness
Integra Natural Wellness helps families affected by autism, childhood anxiety, and ADHD through naturopathic medicine. Using the Family Care Model, Integra physicians focus on treatment of the entire family offering both in-office and at-home visits.
Dr. Bethany Glynn
Dr. Glynn's interest lies in working with people who are underserved by the current medical model, especially with families affected by autism, anxiety and ADHD. Her degree in Recreational Therapy, a branch of rehabilitative medicine that uses play as a healing tool, helped her develop a holistic philosophy and approach in working with individuals of all abilities. During her time in this field, Dr. Glynn worked at Shriner's Hospital for Children in Spokane, with Patch Adams M.D. at his Gesundheit Institute, as a coach for junior Paralympic wheelchair sports competitors, and as a certified YogaFit yoga instructor for people of all ages and abilities. Dr. Glynn's education in Bastyr University's Doctorate of Naturopathic Medicine program gave her the best of both worlds in regards to medicine; she is able to provide for her patients the innovations of modern science strengthened by the wisdom of traditional healing. She is currently acquiring her certification in Advanced Pediatric Therapeutics from the Boucher Institute of Natural Medicine in Vancouver, BC. It is Dr. Glynn's philosophy that happiness is as necessary as health, and she strives to achieve these goals with each of her patients.
Dr. Carrie McMillin
Having always wanted to be a physician, Dr. McMillin began her medical career as a clinical research scientist at Wayne State University School of Medicine in Detroit. There she published and collaborated on several studies on sleep disorders that appeared in the Journal of Applied Physiology. Starting a family herself, she developed a passion and talent for pediatric and family medicine, which led her to pursue a wellness-centered approach to healing in naturopathic medicine. She has particular expertise in creating plans that work for families. Dr. McMillin recognizes that what helps one child may not help the next, therefore she strives to find a treatment that works for each individual case she is presented with. With a wide range of experience combined with an approachable bedside manner, Dr. McMillin brings a down-to-earth approach to naturopathic treatments that helps her patients to be happier and healthier, and recognizes the importance of the health of the family as a whole. She specializes in treating both adults and children with anxiety, ADD/ADHD, autism spectrum disorders, sleep disturbances, and autoimmune diseases. Dr. McMillin received her Doctorate of Naturopathic Medicine from Bastyr University.