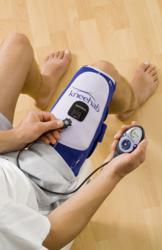 The physician feedback they're receiving on the products thus far, particularly from sports medicine professionals, has been extremely positive. - Dominic D'Arpino, Neurotech director of North American sales
Minneapolis, MN (PRWEB) April 15, 2013
Neurotech NA, a Minneapolis-based market leader in rehabilitation orthopedic and pain management devices, has recently received clearance from Health Canada for distribution of its rehabilitation products in Canada. Receiving clearance are the Kneehab® XP Quadriceps Therapy System, the Neurotech® Plus Surface Neurostimulation System, and the Recovery – Back Conductive Garment System.
In anticipation of Canadian distribution, Neurotech has signed agreements with Rehab Matrix Canada, Inc., headquartered in Nova Scotia, Innovative Medical Supplies, headquartered in Manitoba and Medlines Inc., headquartered in Alberta, to distribute the Neurotech portfolio to orthopedic health care providers across the country.
"We are extremely happy with the distribution partners we have in place, and feel they have the market knowledge and experience to truly represent the spirit of the Neurotech product line," said Dominic D'Arpino, director of North American sales for Neurotech. "The physician feedback they're receiving on the products thus far, particularly from sports medicine professionals, has been extremely positive."
Introduced in the US in early 2010, the Kneehab XP is a quadriceps rehabilitation system for use following knee injury or surgery. The Kneehab delivers a patented form of Neuromuscular Electrical Stimulation (NMES) called Multipath that has been shown to provide superior rehabilitation results than standard NMES. The Recovery – Back was developed to strengthen and rehabilitate muscles in the low back and abdomen to treat low back pain. Surface neurostimulation to these areas is delivered via two separate garments in conjunction with the Neurotech Plus controller.
Legacy products in the Neurotech portfolio, the AvivaStim XP and the AvivaTens XP, were cleared by Health Canada in 2010.