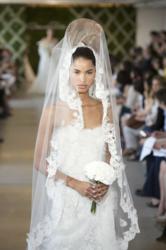 Embrace the high-fashion trend when choosing your headpieces...so long as the headpiece coheres with the style of your gown.
Delray Beach, FL (PRWEB) April 15, 2013
While the trend in recent years has been to minimize the wedding veil—or forego it altogether—Aviva Samuels, founder of Kiss the Planner, asserts that both celebrity brides like Anne Hathaway and Natalie Portman and couture brides nationwide are reviving the art of show-stopping veils.
From dramatic cathedral veils to bold floral wreaths and jeweled headbands, Kiss the Planner, based in Delray Beach, Florida, knows what spring and summer brides need for the perfect, stylish veil to complete their wedding dress. As the recipient of honorable recognition "Trendsetter of the Year," Kiss the Planner is one of the foremost sources for wedding fashion trends.
Wedding Veil Trend 1: Statement Headpieces.
If the Oscar de la Renta 2013 Bridal Collection has proven one thing, it's that the au-natural leanings of yesterday's weddings are on their way out. In their stead, bold and couture looks have taken center stage.
When planning a spring wedding, Kiss the Planner advises, "Embrace the high-fashion trend when choosing your headpieces—such as floral wreaths (leaves and all), feathered birdcages (such as the ones featured in the Spring 2013 Chanel Couture show), or a modern Juliet cap—so long as the headpiece coheres with the style of your gown."
Wedding Veil Trend 2: Jeweled Headbands.
More high-class glamour than girly, these decorative bands are an excellent addition to both an up- or down-do. The savvy Palm Beach wedding planner suggests an embellished band to add instant sparkle to the spring or summer bride's overall look and draw the eye upward, highlighting the face. They're especially stunning if the dress has an understated silhouette or if the bride wears minimal jewelry.
Samuels says, "It's important to consider which colors will stand out best against the bride's hair. Lighter stones, such as crystals, make a striking statement against dark locks. Deep jewel tones, like emerald or ruby, perfectly accent blonde hair."
Wedding Veil Trend 3: Lace Veils.
The Spring 2013 Chanel Couture show also fanned the collective desire for lace, and spring and summer brides who want to keep up with the latest wedding fashions are taking note. Whether it's simply an embellishment on the edge of a fingertip veil, or an all-lace cathedral veil, this delicate look adds a sophisticated touch to couture weddings.
Spring and summer brides seeking more advice about wedding fashion trends and couture wedding design can contact Aviva Samuels for brainstorming services, design-only consultations, partial or full-service event planning at: http://kisstheplanner.com.
--
About Aviva Samuels
Florida wedding planner Aviva Samuels of Kiss the Planner is available to speak with the media about wedding planning, destination weddings, wedding design trends, and more. The Palm Beach company offers an array of extraordinary wedding services, including destination event design, planning and coordination. For more information on Kiss the Planner or to contact Aviva Samuels, go to: http://kisstheplanner.com