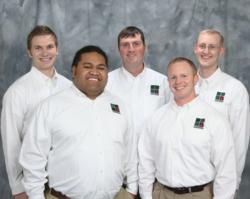 We assessed Wolf Pest Control as having a high level of professionalism and customer care that reflects our own", said Bulwark owner Adam Seever.
Knoxville, TN (PRWEB) April 18, 2013
It may take a Wolf buy to get two family owned pest control companies to grow. Bulwark Exterminating announces the purchase of Wolf Pest Control in both Knoxville and Chattanooga, Tennessee. A newcomer to Tennessee, Bulwark now services in eight states and thirteen metro cities. Bulwark's new customers can expect the same high quality service as enjoyed by over 56,000 customers companywide.
The owner of Wolf Pest Control sought the purchase as an opportunity to focus his efforts and expand his business further. He will continue to grow Wolf's operations in Greenville, SC. He will remain a stake holder in Knoxville and Chattanooga.
As for Bulwark, the purchase of Wolf Pest Control offers an array of benefits and advantages. Bulwark Exterminating welcomes nearly 2,800 existing Tennessee customers into the Bulwark family. Five previous service technicians from Wolf will also make the transition and become Bulwark territory managers. Territory managers remain within designated service boundaries, affording those customers the luxury of having the same technician month after month.
"We assessed Wolf Pest Control as having a high level of professionalism and customer care that reflects our own", said Bulwark owner Adam Seever. "We benefit from keeping previous technicians because those customers will see the same familiar face knocking on their door."
Bulwark continues the same business and service model as recently rolled out in its other service cities across the country. Patrick Jones, a service manager from Bulwark's Austin Branch will act as the new Tennessee branch manager. The technicians under him are territory managers.
Bulwark, based in Arizona, is well familiar with pest problems found in the South. Insects like spiders in Knoxville are a continuous, ongoing problem. Bulwark services nearby cities Atlanta and Charlotte, making Seever confident their expertise and experience to get rid of spiders will be the biggest benefit to Knoxville and Chattanooga customers.
"Our number one priority is to provide friendly, consistent and quality service to every customer," said Seever. "We understand how problematic spiders are in a city like Knoxville. We've been successful in treating some of the worst pest problems and are excited for the challenges that Knoxville and Chattanooga have to offer."
About Bulwark Exterminating
Bulwark Exterminating LLC, based in Mesa, AZ, is an industry leader in providing high quality pest control service. Bulwark is fully operational in eight states, including 13 major cities. While Bulwark provides pest extermination for common insects such as ants, roaches, crickets and spiders, the company's differentiating specialty is scorpion control. Bulwark uses the finest and most effective products in the world to solve common pest problems. Bulwark is privately and family owned, providing pest control in Raleigh, Charlotte, Atlanta, Tulsa, Houston, San Antonio, Austin, St. George, Phoenix and Las Vegas. For more information, visit http://www.BulwarkPestControl.com.