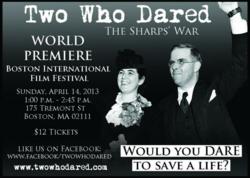 International Premiere at Boston International Film Festival on April 14th
Boston, MA (PRWEB) April 12, 2013
When Martha and Waitstill Sharp of Wellesely, MA set sail for Europe in February 1939, they had no idea of the impact that decision would have on their lives and the lives of their children and the parish that they left behind.
An idealistic Unitarian couple, deeply committed to each other and passionate about social justice; they soon found themselves immersed in money laundering, guiding political dissidents through secret passageways and over mountain ranges, and arranging for milk deliveries to starving children. Their personal decision to declare war on Nazi Germany and to dare to help those refugees who had no one else to turn to, would forever change the way they looked at the world and at themselves.
Two Who Dared: The Sharps' War is a World War II love story premiering at the Boston International Film Festival on Sunday April 14th. Viewed through the lens of personal interviews and unpublished memoirs, Two Who Dared tells the story of a Unitarian minister, Waitstill Sharp and his wife Martha, who left their bucolic life in Wellesley MA and plunged headlong into helping refugees escape the evils of Nazi persecution at the onset of WWII. Their compassion and courage would inspire generations to come.
The official world premiere will be at the Boston International Film Festival on Sunday, April 14th at 1 pm at the Loews / AMC Boston Common, located at 175 Tremont Street, Boston, MA 02111.
For tickets and information, please visit: http://www.bifilmfestival.com/000000013session9.html
Director Artemis Joukowsky is proud to present this remarkable story of courage, documenting the lives of his grandparents, Reverend Waitstill Sharp and his wife Martha as told from their personal point of view, drawing on their recorded interviews, letters and unpublished memoirs. The film also includes interviews with children rescued and noted scholars.
TWO WHO DARED: THE SHARPS' WAR is a project of No Limits Media, Inc., a 501 (c) (3) organization. Founded in 2001, No Limits Media (NLM) is a multimedia development and production company dedicated to informing and entertaining the estimated 20% of the U.S. population that directly lives with a disability.
For more information, please visit the website: