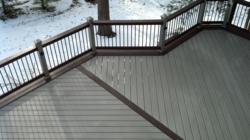 Michigans Best Deck Builders did a great job. They where quick and professional. I would highly recommend them to my friends. - Bob Jones
Shelby Township, MI (PRWEB) April 13, 2013
Summer is finally just around the corner and that means it is time to uncover the grill, set up the tiki torches, and fill the pool. Summertime is family time and with great weather comes the desire to spend time with loved ones in the beautiful rays of the shining sun. However, one of the most important elements of backyard parties and get-togethers is often ignored and neglected and that is the deck. A properly maintained and sealed deck not only provides a beautiful addition to a home but also acts as a place to gather and enjoy the company of family and friends. Michigan's Best Deck Builders has been in the business of installing and maintaining the best decks in Michigan since 1997 and now have a special offer to anybody needing a deck built before the summer kicks off.
Right now, Michigan's Best Deck Builders is offering a custom two-board border, free, with every composite deck purchase from now until the foreseeable future (for the summer, anyways). A two-board border not only looks highly attractive and professional but also has a practical application as well. These include hiding the splicing and butt joints (the seams that join two boards together) that normally become an eyesore and can help to blend differing colors of the materials being used. By taking advantage of this special deal when purchasing a brand new composite deck, Michigan residents can save hundreds of dollars depending on the size of the project.
As a premium composite deck builder in Michigan, Michigan's Best Deck Builders is committed to providing excellent and rapid service using a highly skilled staff of professional deck builders. A composite deck is one of the best investments a homeowner can make because, unlike a traditional wood deck, a composite deck is made of wood fibers infused with recycled plastics and PVC making it resistant to rotting, splintering, and splitting. A composite deck is environmentally friendly because it is made of recycled plastics that otherwise would have been discarded in a landfill or elsewhere. And because Michigan's Best Deck Builders is offering a free two-board border with all new composite deck projects, helping the environment and getting a beautiful deck has never been easier and cheaper!