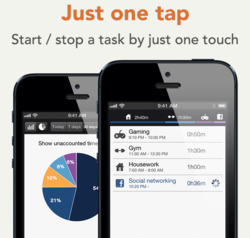 It is exactly what I was looking for. Something to measure the amount of time (wasted) on tasks and a summary of time spend for each task each day. I also like the simple and uncluttered design.
Stockholm, Sweden (PRWEB) April 15, 2013
WonderApps AB (http://www.wonderapps.se) proudly announces implementing social network sharing function and new overview panel in its popular iPhone app ATracker - Daily Task and Time Tracking.
ATracker is a time tracking application which is very easy to use and requires minimal setup. On the main screen, user can see the complete user defined task list and the overview of today's time spending, and start / stop time recording simply by tapping the task. It only needs a name and / or icon to setup a unique task, with advanced settings as optional. So user can focus on own work instead of wasting time on mastering the app.
Currently, ATracker is in top 100 list in productivity category in major Europe countries, e.g. UK, Germany, France, Spain, etc. In top 200 list in productivity category in US, Canada and China.
This new feature allows user to share their time tracking report in bar chart or pie chart with customized text to their Facebook or Twitter account by pressing the Facebook or Twitter button in the report tab.
Also, in this release, a new overview section is introduced on the main screen to present today's aggregated time spending on each task. User can now use color coding to easily distinguish tasks in all functions including the reports as well.
With an elegant minimalist UI design, ATracker provides:

A complete list of all tasks on the main screen with one row for each task
Start and stop task by just one tap. If the user taps a new task, it will start tracking the new task and stop previous one automatically
Overview of today's time spending on the top of main screen
Complete task log. Show task for any given date. Add missed or modify existing task
Statistics in bar chart and pie chart. User can share the report via Facebook or Twitter with customized text
Export task entries in CSV format with report chart via Email
Save note for task entries
Set alarm for tasks. Alarm will sound even if the app is not running
Full customization of tasks with hundreds of icons to choose from and color coding
Full customization in user interface, including choose different skin (preloaded or from user's photo library), setting task item style etc.
Device Requirements:

iPhone 3GS, 4, 4S, iPhone 5, iPod touch (3/4/5 gen)
Requires iOS 5.0 or later
29.9 MB
Lite version:
ATracker - Daily Task and Time Tracking Lite
https://itunes.apple.com/app/atracker-daily-task-time-tracking/id522008611
PRO version:
ATracker PRO - Daily Task and Time Tracking $2.99 USD (or equivalent amount in other currencies)
https://itunes.apple.com/app/atracker-daily-task-tracking/id519561306
Web site:
http://www.wonderapps.se/ATracker
PR and screen shots in German, French, Japanese and Chinese are attached as well.
Promo code available on request.
WonderApps AB is a Stockholm-based software development company that specialises in mobile application development for iPhone, iPod touch and iPad. Its aim is to create simple and elegant apps to make life easier.