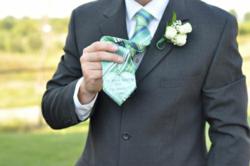 I'm stoked to have the opportunity to partner with Bows-N-Ties.com this year and have my grooms and groomsmen be the beneficiary of this great opportunity
San Francisco, CA (PRWEB) April 13, 2013
In search to find real life models for their groomsmen accessories, San Francisco based retailer, Bows-N-Ties.com just partnered with expert wedding photographer, Colson Griffith. To do this, Bows-N-Ties is offering free wedding ties to any of Griffith's clients for the remainder of the 2013 wedding season.
Hendrik Pohl, founder of Bows-N-Ties, and Colson Griffith met for coffee a few weeks back, talking about ways they could help each other promote their businesses. "After looking through some of Colson's pictures, it was instantly clear to me that he is very talented", says Pohl. "I thought how great it would be to have some of these wedding parties show of our neckties and bow ties."
Featuring real weddings dressed in Bows-N-Ties's neckwear is not a new concept. Just last Fall Bows-N-Ties launched a monthly wedding pictures contest, that allows customers to upload their wedding photos for a chance to win a $250 gift certificate to the site. "Since we started this contest we have received thousands of pictures of wedding parties wearing our ties. It is great to see how couples decide to coordinate our neckwear with the rest of the bridal party. What's even greater, is that many of these looks served as inspiration to design new wedding tie collections," says Pohl.
With the partnership of Colson Griffith photography, Bows-N-Ties hopes to further expand on the concept of looking at real weddings for new design inspiration, and for the remainder of the 2013 wedding season, any of Griffith clients can outfit their entire wedding party with free ties from Bows-N-Ties.com. "I'm stoked to have the opportunity to partner with Bows-N-Ties.com this year and have my grooms and groomsmen be the beneficiary of this great opportunity," says Griffith. "I feel good about adding Hendrik's business to my preferred vendor list that I often share with my clients."
For more information, please contact Colson Griffith at ColsonGriffith.com or Hendrik Pohl at Bows-N-Ties.com