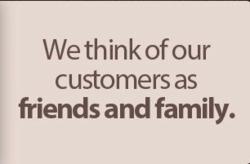 Ellicott City, MD (PRWEB) April 15, 2013
Following the recent launch of its customer loyalty program, A&J Floor Coverings aims to raise awareness about this initiative by giving away the program's benefits to interested participants.
"A Taste of Our Customer Loyalty Program" promotion is open to Maryland residents and will be accessible through the company's Facebook page from April 15 to May 10, 2013. Participants are encouraged to enter on a weekly basis, as each weekly period will conclude with a prize drawing.
A total of four randomly selected winners will each receive a $50-level prize of their choosing. The prizes are provided as a part of A&J Floor Coverings' Customer Loyalty Program.
"Our Ellicott City flooring installation customers enjoy great service and even better perks, which we would like to temporarily offer to all Maryland residents," explained Mark Schlossberg, the owner of A&J Floor Coverings.
The program was designed to reward both existing and current customers by awarding various prizes for certain actions, such as a qualifying purchase or a new customer referral. Depending on the action, a customer may earn credit redeemable for items of different value.
"Many people are receiving their tax returns this time of year and investing the funds in home improvement, such as new carpeting or flooring replacement is a good idea," shared Schlossberg, adding that the loyalty program offered by A&J Floor Coverings can make the return on investment even better.
The two reward tiers are $100-level prizes and $50-level prizes that can be claimed online. The lower-tier prizes are the ones awarded to the winners of "A Taste of Our Customer Loyalty Program" promotion.
"We have been helping Maryland homeowners and property managers with flooring renovations for more than 35 years and during that time we've met many amazing people," shared Schlossberg. He added that the customer loyalty program is just another way family-owned A&J Floor Coverings can express gratitude and appreciation for its customers.
The promotion starts at noon on April, 15 and is subject to the official rules and regulations that can be accessed via the company's Facebook page.
About A&J Floor Coverings
Serving the community since 1977, A&J Floor Coverings provides a wide variety of flooring services to commercial and residential customers throughout Maryland. Carpet, ceramic, hardwood, laminate, vinyl, bamboo, and cork are some of the materials A&J Floor Coverings employees are proficient in handling. For more information, please visit our website at http://www.ajfloorcoverings.com.