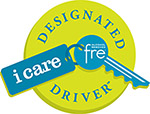 St. Helena, CA (PRWEB) April 15, 2013
Fre alcohol removed wines has officially launched the 2013 Designated Driver: I Care® program promoting responsible drinking and the importance of having a designated driver during times of celebration. Take the pledge on the Fre Facebook page: https://www.facebook.com/FreWines. This is the 3rd year of the program and includes an in-store campaign and a consumer sweepstakes which gives consumers a chance to win a Tiffany sterling silver key pendant and necklace, to celebrate the commitment to hand over their keys to a designated driver, or take the pledge to take the wheel as a designated driver.
As the leader in the growing alcohol removed wine category, Fre offers a wide range of delicious wines, including White Zinfandel, Chardonnay, Brut, Merlot, Red Blend and Moscato, one of the fastest growing varietals in the marketplace. An important part of responsible alcohol service, Fre wines provide designated drivers, athletes, and anyone who doesn't drink alcohol a sophisticated alternative to soft drinks. Serving Fre wines at a function or event is an integral part of thoughtful and responsible entertaining and service.
Fre wines utilize an innovative approach to remove the natural alcohol from each barrel while preserving the integrity of every flavor. This spinning cone process is superior to all other alcohol removal processes. As a result, this method produces impeccably delicious, alcohol-removed wines. Fre wines are perfect for mixing up fun mocktails. For a variety of recipe options, visit the Fre website: http://frewines.com
Fre Wines are produced by Sutter Home Winery, one of America's most trusted wine brands. Sutter Home is wholly owned and operated by the Trinchero family, Napa Valley vintners since 1948. The Trinchero Family Estates portfolio includes more than 30 brands such as Sutter Home, Trinchero Napa Valley, Napa Cellars, Terra d'Oro, SeaGlass, Trinity Oaks, Folie à Deux, Ménage à Trois, and the number one alcohol-removed wine, Fre. TFE markets and sells Joel Gott Wines; Charles & Charles wines; and the Three Thieves group of wines: Bandit, Newman's Own, and The SHOW. TFE's import portfolio includes Angove Wines from Australia; Doña Paula wines from Argentina; Carmen Wines from Chile; Shatter Wines from France; and CRUZ and Tres Agaves Tequilas from Mexico. Visit http://frewines.com to learn more.