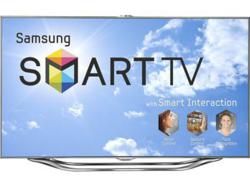 Denver, Colorado (PRWEB) April 12, 2013
Find My Price, a tech specialized reviewer, likes to hand an honorary title every week to the product that obtains the best score during their tests.
Analysts were deeply impressed by the performance and the technical specification of Samsung's UN65ES8000 model, a TV set embedded with 3D and HD technology and many more smart options, so they decided to dedicate all their attention to this product.
Based on the description provided by the article published on Find My Price, the television set is one of the most advanced at present. It has been endowed with a Smart Interaction feature which recognizes the hand gestures and face movements that the owners make in order to facilitate users' control over their devices.
Thanks to this option, users can easily choose their TV shows and set the system's settings without even touching it or the remote control. The Voice command has also received a positive description from reviewers because it recognizes most of the words that are being uttered by owners.
The basic functions of the TV set can be improved and personalized with the help of the online apps. There is also a built-in Wi-Fi for users to surf the Internet and stay in touch with their friends with the help of the TV set. Video chatting is possible thanks to the built-in camera, but the picture quality will not be very good; this feature was included to allow the system to recognize hand gestures.
The biggest score that the system obtained was for the great picture quality that the TV produces, both in 3D and HD mode. The 65-inch screen packs a 1080p resolution and a 240Hz refresh rate, so the image is crystal clear at all times even during fast moving sequences. The colors are vividly rendered without appearing far-fetched, whereas dark scenes appear black thanks to the good black level performance.
Samsung's ES8000 model received the highest score on Find My Price for performance and technical details. The only aspect that was described as a drawback was the hefty price which could limit low-end consumers' access to the product.
Find My Price publishes pros and cons articles, product reviews, product recommendation and market reports every day. The website has made a reputation for being one of the most accurate and reliable source of tech reviews. For more information, readers can access http://www.findmyprice.net.