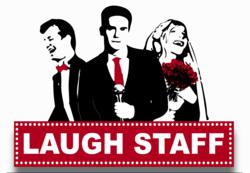 Where in the world is the best man?
Cleveland, OH (PRWEB) April 13, 2013
In this day and age, people move around a lot; be it for work or pleasure. In the past, that might have caused some harsh difficulty – like missing a loved one's wedding. However, with the help of technology, it is still possible to be present and give a memorable best man speech at the wedding.
Captain Matthew Krivohlavy proved that when he delivered his best man speech through a series of flashcards while in the cockpit of a Harrier jet flying over Afghanistan. Captain Krivohlavy emphasized how he wished he could be there and ended his speech with a bit of advice: "Just remember, marriage is a journey. There will be ups and downs, so make the best of it and go nuts together."
"We want our clients to know that even if they can't be at the wedding, they can still be at the wedding," said Laugh Staff consultant Kali Fencl. "Laugh Staff is willing to work with best men, like Captain Krivohlavy to help make the best speech."
No matter where the best man is in the world, it is possible for him to give a great, moving speech. There are many different ways to put together a funny, memorable speech. Laugh Staff realizes this and wants these best men to know they will be there to assist with the funny.
For more information about Laugh Staff, Inc. visit http://www.laughstaff.com, call 740-706-6690 or email info(at)laughstaff(dot)com.
About Laugh Staff, Inc:
Laugh Staff, Inc. was founded in 2012 by a team of comedians and writers in Cleveland, Ohio. Laugh Staff helps their clients with best man speeches as well as providing best man speech examples on their blog. They assist best men and maids of honor in speech-editing, speech writing, and provide training on speech delivery. Recognizing the importance of the big day, Laugh Staff's professional comedians work with best men and maids of honor to ensure they make a lasting impression.