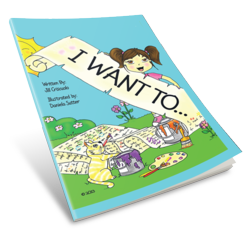 I believe that adults should encourage kids, help them to discover who they are and persuade them to use their imagination in positive ways to not only benefit themselves, but others as well
West Orange, NJ (PRWEB) April 14, 2013
Entertainer Jill Criscuolo is expanding her horizons and has made a noteworthy venture into the Children's book-publishing arena. The first time author is launching a promotional tour for her illustrated children's book "I Want To…" on Saturday, May 4th, 2013 2pm at BARNES & NOBLE Bookstore, 112 Eisenhower Parkway, Livingston, New Jersey.
At the book launch and signing event she will also entertain the audience with a live performance in a setting of literature and music.
The book is the first of a forthcoming series whose main character is Frankie, a little girl who takes us in on numerous hopeful adventures.
"I want to", as an aspiration is endless for children and adults alike. Frankie uses her imagination to show how through desiring, how possible things could be; that dreams can indeed come true. Jill's inspiration comes from many experiences and things, and she says this book in particular was inspired by all children of the world that say, "I Want To..."
"I believe that adults should encourage kids, help them to discover who they are and persuade them to use their imagination in positive ways to not only benefit themselves, but others as well."
The author's use of imagination enables her to create wonderful things, which are expressed in her singing, writing, and acting projects. Her mission through her work is to promote feelings of well-being, self-love and self-acceptance. She is intent on creating books that will entice young readers to read more and explore the many options available to them. Ultimately, to instill a feeling that there is always room to learn, grow, and be imaginative whatever age you are!
She stays true to the precept that as we look around, everything we see was at one time imagined before becoming a reality.
"I Want To…" is a delightful storybook, published by Trafford Publishing, and now available in e-Book or soft-cover form on all major online booksellers outlets. With brilliantly colorful illustrations by Daniela Sutter, the scenes of the book are appealing. Also available in soft-cover version is the coloring book, wherein children can apply themselves creatively with their own colors and words of choice to show their personal "I Want To" wishes.
Take a lyrical adventure, a journey into wonders of the world and the beauty of life through the eyes and imagination of a child. http://www.jcebooks.com
Jill's kick-off book tour to retail markets will further branch out to Libraries, Schools, Hospitals, and Community organizations. Additionally, she will be donating books to kids in various areas as part of her giving back initiative.
The multi-tasking entertainer is also currently working on new songs for future music releases to add to her discography.
Forever exploring artistic avenues to move forward, her foray into literary publishing starts another chapter in her endeavors.
ABOUT JILL CRISCUOLO
Jill Criscuolo is an emerging author with creative talents stretching over a multidimensional career encompassing music, television, and writing. She is the recipient of multiple awards and nominations as a singer-songwriter. The West Orange, New Jersey, native makes her book-publishing debut as an author with the launch of her children's book I Want To…. The idea to create the book began developing several years ago but was sidelined as she continued her music and acting projects. Over the years, her innate curiosity, coupled with a vivid imagination, enabled the shaping of countless stories, poems, and songs. She has compiled and composed a collection of stimulating, intriguing, and whimsical projects to bring to the forefront. As a longtime fan of children's books, Jill is realizing her dream in publishing I Want To…
Get more info at: http://www.jcebooks.com
ISBN 13 (Soft): 9781466976290
ISBN 13 (eBook): 9781466976283
http://www.trafford.com
http://www.jillcriscuolo.com
http://www.facebook.com/jillcriscuolo
http://www.imdb.com/name/nm3571751/
###