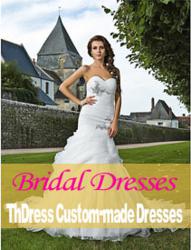 ThDress Launches a Great Discount on its Strapless Wedding Dresses
(PRWEB) April 15, 2013
Today, ThDress.com, a Chinese large-scale online shopping store, launches a great discount on its strapless wedding dresses, up to 55% off.
A few days ago, ThDress.com released its new styles of strapless wedding dresses. Today, this company launches a great discount on its new wedding dresses.
There are more than 100 items in this new collection, which features trendy designs, gorgeous looks and delicate craftsmanship. Furthermore, all the wedding dresses can be customized with the customer's measurements. You can find the best suitable dress at ThDress.com.
In addition, ThDress.com is also offering similar discounts on its thousands of different styles of wedding dresses, including princess wedding dresses, beach wedding dresses, colored wedding dresses, vintage wedding dresses, plus size wedding dresses and so on.
Bella, one of the customers said, "My dress was my first purchase from this website, but it certainly will not be my last! My dress arrived exactly like the picture and fitted perfectly and it was custom sized. I am incredibly impressed. The material used was beautiful, the lining is impressive and it was so well made. I am extremely happy, and would recommend purchasing from your website to anyone, in fact I already have!"
About ThDress.com
Established in 2009, ThDress is a manufacturer specialized in the development and production of women's clothing. All of our products comply with international quality standards and are greatly appreciated in a variety of different markets throughout the world.
View more information about wedding dresses http://www.thdress.com