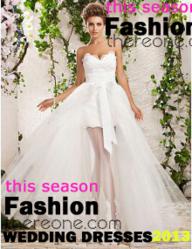 Thereone Launches the Latest Discount on its Sweetheart Wedding Dresses
(PRWEB) April 14, 2013
Today, Thereone.com, a Chinese large-scale online shopping store, launches a great discount on its sweetheart wedding dresses, up to 69% off.
Last month, Thereone.com released its new styles of sweetheart wedding dresses; they are all beautiful and praised by many young ladies. This month, the company provides a great discount on these wedding dresses. Customers can find cheap and suitable dresses at Thereone.com.
These wedding dresses are 100% manufactured with the high-quality craftsmanship and materials, and featured as affordable prices, gorgeous look and delicate craftsmanship. Sweetheart wedding dresses are suitable for all occasions, such as an evening party, a garden wedding, or an indoor wedding.
In addition, girls can find more different kinds of wedding dresses, including princess wedding dresses, A Line wedding dresses, ball gown wedding dresses, vintage wedding dresses, and much more. And similar discounts are available for these dresses.
About Thereone.com
Founded in 2009, Thereone.com is the leading supplier of wedding dresses and special occasion dresses. Thereone.com is committed to developing cheap and high-quality women's dresses for customers. This company has a group of designers who create elegant designs for customers all over the world. Good customer service, high quality, fast delivery, and competitive prices, are the reasons to choose Thereone.
For more information, please visit http://www.thereone.com/