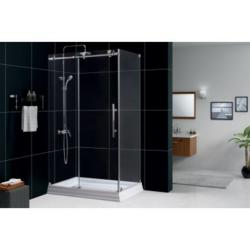 Whether you are looking for a glass door for your shower area, or want something more sophisticated than a shower curtain for your bathtub, the Enigma-X is for you.
(PRWEB) April 14, 2013
Constantly on the lookout for the best in bathroom installations, MainFaucet.com, a leader in the kitchen and bathroom industry, is very excited to announce that they have added Dreamline Enigma-X shower doors to their already amazing selection of shower doors.
It doesn't matter whether one needs a standard or oversized shower door or are even converting their old bathtub to a shower, the Enigma-X line from Dreamline is sure to have the perfect shower door to fit anyone's individual needs, ensuring that having to deal with the frustration and high dollar prices of custom glass is a thing of the past. If you are converting your 60" bathtub to a shower area or shower tray, the SHDR-61607610-07 which is designed for a 60" wide opening will be a perfectly sliding door for your shower area. For smaller openings, the SHDR-61487610-07 is designed for a 48" wide opening. All Enigma-X doors have a total height of 76".
Enigma-X also offers a tub door in the same style. The SHDR-61606210-07 will fit a standard 60" tub. The tub doors have a height of 62" so they can sit on top of the tub edge. Make your bathroom truly unique by replacing your shower curtain with the sleek frameless tub door: SHDR-61606210-07.
When a customer purchases a shower door from the Enigma-X collection at MainFaucet.com, not only will they be getting it for a very affordable price, they will be getting unbeatable quality and exceptional practicality. Doors and enclosures from the collection feature glass that is 3/8" thick and have a ClearGlass protective coating which protects against limescale. The oversized stainless steel wheels means the door will glide easily and gracefully across the stainless steel track, and features such as anti-splash threshold will prevent water from spilling onto the bathroom floor.
These shower doors are reversible and can be installed to open from either the left or right, depending on the individual's needs or preference. The stainless steel hardware is available in a brushed or polished finish.
The Enigma-X Collection from Dreamline is a great way to add a little class and sophistication to your bathroom remodeling project. With consumers becoming more and more cautious with their finances, Dreamline provides an excellent solution for those not wanting to spend massive amounts of money on custom glass, but also not wanting to settle for inferior quality and style. MainFaucet.com carries the entire collection of shower doors and enclosures from Dreamline as well as other major manufacturers. Main Faucet makes it easy for customers to make their home improvement purchases online by offering free shipping on all orders over $99 and no-hassle 30-day return period.