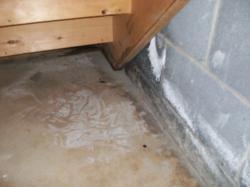 Most basement water leakage problems can be permanently repaired by an experienced waterproofing contractor.
Whitesboro, NY (PRWEB) April 16, 2013
B-Dry.com, a basement water leakage specialist, suggests looking for these clues to detect basement leaks when shopping for a house:

Rusty marks around the base of appliances like furnaces, washers, dryers, water heaters, etc.
Water stains or rotting on wooden walls or furniture.
White efflorescence, a powdery residue on walls and floors caused by minerals seeping in from the masonry.
Warped paneling, wallboard or doors. Move furniture away from walls and check for warping or paint bubbling.
Storage boxes along walls may have been placed to cover signs of Leakage. Move stored items and boxes to check their bottoms for dampness or stains.
Water lines or stains on the base of basement walls.
Freshly painted floors and walls can an attempt to hide evidence of water damage; look inside closets and underneath stairs for signs of water.
Appliances and storage placed off the floor on a platform.
A sump pump may not be the sign of problems since many basements have pumps but may never heave been flooded. Many local zoning codes require sump pumps and are not an indication or a wet or dry basement.
Talk to the neighbors. Ask about spring or fall flooding and visit the house on a rainy day.
However, potential homebuyers need not be scared away from a dream house that shows signs of basement water or moisture problems. According to Bruce Davis, President of B-Dry® System of Syracuse / Utica, NY, "most basement water leak problems can be permanently repaired by an experienced waterproofing contractor".
If a buyer sees any of these leakage clues, a professional waterproofing company should be consulted to review the situation. Davis says "Often the problems can be solved by installing an effective waterproofing system and the cost can be deducted from the sale price of the home."
Homebuyers can also look for obvious contributors to basement water problems like rain gutters in poor condition, downspouts that are dumping water directly against the home or ponding issues around the property.