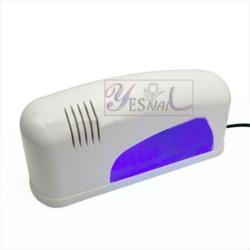 (PRWEB) April 14, 2013
Asia Nail, one of the leading nail beauty products suppliers in Asia, presents their newly developed UV lamp to all nail care lovers, the LED nail UV lamp. The LED nail UV lamp is the latest member in the UV lamp family, combining two types of curing technology in one unit!
Both the UV lamp and Led nail Lamp have their own advantages; the LED nail UV lamp from Asia Nail has combined the advantages of both. The UV lamp is more affordable, but it needs longer curing time and uses more energy; the Led nail lamp, on the other hand, is generally more expensive, which needs less curing time and is more eco-friendly. UV lamp bulbs need to be replaced periodically, but it can cure all types of gel polish; the Led nail lamp, on the other hand, doesn't need any bulb as the life of the lamp lasts, the disadvantage is that led nail lamp only cures polishes that are formulated for LED technology.
The LED nail UV lamp from Asia Nail has the following features:
1. The bottom can be removed, and is very convenient to clean both foot and hands. And the cover of bottom focuses its power on the fingers so that it has enough powder to cure any gel.
2. The device has an automatic switching powder supply.
3. The device has 3 timers: 30s, 60s, and 90s; users can choose any timer they want to cure the gel.
4. The device has a beautiful shape and can be used for nail salon at home.
5. The device can be used in any country, automatic adjusting itself from 110v~120v or 220v~240v
"We have received a lot of questions about UV and LED lamps for curing gel polish. This LED nail UV lamp will bring a new nail caring experience to our customers", says Asia Nail.