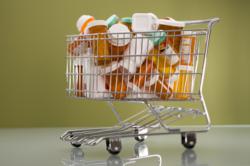 "Dogs and cats can get become quite ill or even die when they find prescription or over-the counter medications around the house or in the trash."
Stamford, CT (PRWEB) April 22, 2013
According to the American Veterinary Medical Association (AVMA) each year thousands of pets are accidentally poisoned when they eat human or pet prescription drugs, even ones prescribed for them. Dr. Craig, owner of Gentle Goodbye Veterinary Hospice often gets asked about the dangers of left-over medications: "Dogs and cats can get become quite ill or even die when they find and eat prescription or over-the-counter medications around the house or in the trash."
The traditional recommendations, to either flush left-over medications down the drain or throw them in the trash, are discouraged by both New York and Connecticut state agencies. Because mounting concern over environmental and other safety issues makes those alternatives less than ideal, state and federal agencies are stepping up with community programs to address the need.
One such program is the upcoming National Prescription Drug Take-Back Day. On April 27 from 10 a.m. to 2 p.m. a number of local police departments and the Drug Enforcement Administration (DEA) will give the public an opportunity to rid their homes of potentially dangerous expired, unused, and unwanted prescription drugs. The service is free and anonymous, no questions asked.
To encourage pet owners to take advantage of this service, Dr. Craig is offering a free magnet pet frame to anyone who turns in left-over pet medications to participating agencies. (Just email your mailing address to DrMaryC@GentleGoodbye.org with the subject line, "National Prescription Drug Take-Back Day")
According to the DEA you can bring your prescription medications for disposal to the following sites:

Darien Police Department is collecting at the Town of Darien Public Works Garage, 126 Ledge Rd, Darien CT
Norwalk Police Department is collecting in the side parking lot at One Monroe Street, Norwalk CT
Pound Ridge Police Department is collecting at 177 Westchester Ave, Pound Ridge NY
North Castle Police Department are collecting at the North Castle Town Hall, 15 Bedford Road, Armonk NY
Pleasantville Police Department is collecting at 80 Wheeler Ave, Pleasantville, NY
Mount Kisco Drug & Alcohol Prevention Council is collecting at the Mt Kisco Police Department, 40 Green Street, Mt Kisco NY
Bedford Police Department is collecting at 307 Bedford Rd in Bedford Hills, NY
Visit the DEA web site for more locations
In addition to this one day event, visit the web sites of the NY Department of Environmental Conservation or the CT Department of Energy & Environmental Protection for more ways to dispose of left over pet medications.
Gentle Goodbye Veterinary Hospice & At-home Euthanasia is a mobile veterinary service owned and operated by Dr.Mary Craig in Westchester County, NY and Fairfield County, CT that offers in-home end of life care for pets.