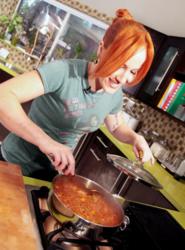 Miami, FL (PRWEB) April 13, 2013
Chef Adrianne's Vineyard Restaurant and Wine Bar will be tantalizing taste buds of guests attending South Miami FIAT's Venetian Masquerade this Saturday, April 13th. Chef Adrianne promises to create an Italian dish that will leave attendees wanting more.
"I always look forward to events that inspire me to create something new," said Adrianne Calvo, chef and owner of the acclaimed Chef Adrianne's Vineyard Restaurant and Wine Bar. "With Venetian Masquerade I'll get to have a lot of fun creating a new Italian dish that speaks sexy, opulent, and classic," continued Calvo.
Presented by South Miami FIAT, Venetian Masquerade will unveil the new, highly anticipated FIAT 500 Abarth Cabrio. In keeping with all things Italian, the masquerade theme will set the stage for an evening of intrigue, fantasy and mystery as guests will be greeted with a Venetian mask. Guests will spend the evening enjoying music, complimentary cocktails provided by Diplomatico Rum and Iceberg Vodka, as well as the culinary magic by Chef Adrianne.
The Venetian Masquerade will take place on Saturday, April 13, 2013 at South Miami FIAT located at 17220 South Dixie Highway from 7 p.m. to 10 p.m. The event is free to attend, but RSVP is required by calling (305) 456-1381 or visiting http://fiat500abarthlaunch.eventbrite.com/.
For more information on Chef Adrianne's Vineyard Restaurant and Wine Bar please call (305) 408-8386 or visit http://www.chefadriannes.com.

About Chef Adrianne:
Now 28 years old, Adrianne Calvo has turned a childhood passion for gourmet cuisine into a successful career. She is a staple of the South Florida culinary community and has been a featured participant in numerous social and benefit events throughout the area. Her restaurant has influenced the way people experience fine dining as she infuses "maximum flavor" into each dish and offers an innovative 'dark dining' experience. In addition to being chef/owner of her restaurant, Calvo has her own Maximum Flavor TV segment on NBC6's "6 in the Mix" and has been featured on The Food Network's "Chopped." She is also a spokesperson for Panda Kitchen and Bath, and most recently won the National Master Holiday Chef Challenge. For more information, visit http://www.chefadriannes.com.