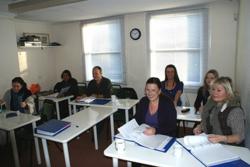 A practical approach is so important for hypnotherapy students because it allows them to answer the question that they all have which is 'Does hypnotherapy work?'
Wallington, Surrey (PRWEB UK) 13 April 2013
The Surrey Institute of Clinical Hypnotherapy trains people from all walks of life to become effective hypnotherapists by offering practical hypnotherapy training . But there are many pit falls to be avoided when choosing the right hypnotherapy education.
Most 'would be' hypnotherapists are looking for the basic diploma which starts the hypnotherapist off on their new career. One of the most important prerequisites is that the hypnotherapy training meets the National Occupational Standards for hypnotherapy and is externally verified by a government approved national awarding body, such as the NCFE.
NCFE is recognised as an Awarding Organisation by the qualification regulators ('regulators') for England, Wales and Northern Ireland. The regulators are the Office of the Qualifications and Examinations Regulator (Ofqual) in England, the Welsh Government in Wales and the Council for Curriculum, Examinations and Assessment (CCEA) in Northern Ireland.
The vast majority of hypnotherapy training courses are accredited by a hypnotherapy association, which is ok but not sufficient. These courses are not externally accredited and should be avoided.
The Surrey Institute's hypnotherapy diploma is very practical in nature, as they believe it is very important for a 'would be' hypnotherapist to understand and experience what being a hypnotherapist entails. That way the student is fully prepared for the type of work and enters the profession with their eyes open.
Paul White, Chairman of The National Council for Hypnotherapy and Principal/Trainer at the Surrey Institute of Clinical Hypnotherapy, said "A practical approach is so important for hypnotherapy students because it allows them to answer the question that they all have which is 'Does hypnotherapy work?'. When they see it happen in front of their own eyes it fills them with confidence that they will be able to help change the world, one person at a time."
For a new hypnotherapist the quality of their training is probably the most important thing, and it will certainly be one of the most costly things that they will pay out for. Choosing wisely at the very start of their career will pay dividends in the future. With the right training they will attract more clients and be able to run a profitable practice that allows them to help more people.
The reason the hypnotherapy education can be so quick is that hypnotherapy is a complementary therapy; i.e. it does not replace the medical profession, rather, hypnotherapists work alongside it. As such, hypnotherapists do not need to have medical knowledge; they leave the medical interventions to the medical professionals.
The Surrey Institute of Clinical Hypnotherapy is renowned for providing high quality hypnotherapy education which is practical, simple and very effective, enabling hundreds of our graduates to leave our Institute with an internationally recognised qualification and the skills to set up in practice immediately after the course and enjoy all the rewards of a new profession.