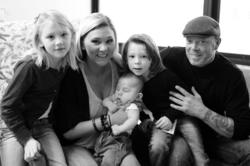 "Being in a position to help a family like the Hatlens, to give them a hand when its needed the most, is incredibly rewarding for our organization. We are dedicated to helping families in need throughout North Dakota," said Erich Mishce of Spare Key
Fargo, ND (PRWEB) April 15, 2013
Today, Spare Key announced their first mortgage grant to a North Dakota family, Dave and Kelly Hatlen.
The Hatlens' son, Cash, has been hospitalized since June 2012 with Laryngomalasia, a condition that affects the soft cartilage in the trachea of infants. Cash began experiencing health difficulties at five weeks old. After months of testing, doctors diagnosed Cash with Laryngomalasia. Laryngomalasia is the most common cause of breathing difficulties in infancy, in which the soft, immature cartilage of the upper larynx collapses inward during inhalation causing airway obstruction. Cash has an extreme case that caused his airway to give out.
"Trying to balance spending as much time as possible with Cash, while trying to keep up with life's daily responsibilities became an enormous burden on our family," said Kelly Hatlen. "Spare Key's generous assistance provides us the peace of mind to focus on our little boy, words can not express our gratitude."
As of today, Cash is still hospitalized at Children's Hospital in Minneapolis. His care team has been working hard to get Cash home and reunite the family after several difficult months.
"Being in a position to help a family like the Hatlens, to give them a hand when its needed the most, is incredibly rewarding for our organization. We are dedicated to continuing to help families in need throughout North Dakota," said Spare Key Executive Director, Erich Mische.
Since 1997 Spare Key has helped over 1,700 families 'Bounce and not Break' primarily in Minnesota, covering mortgage payments so parents can play a key role in their child's recovery team. Earlier this year, Spare Key announced its expansion to North Dakota, South Dakota and Wisconsin. "Our mission is simple, help families balance their financial demands while playing an integral role in their child's recovery," Mische continued. "We feel blessed to have the resources and opportunity from our generous donors to expand this mission into North Dakota."
Spare Key, a non-profit, is supported by private donations from a wide variety of businesses, corporations, individuals, and organizations. To date, they provided more than $1.7 million in assistance to over 1700 families in the Midwest.