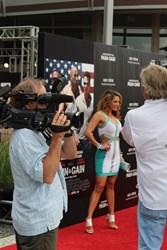 (PRWEB) April 13, 2013
Hollywood flocked to South Beach for the world premiere of the much anticipated film by Michael Bay "Pain & Gain", by Paramount Pictures. This movie features Dwayne Johnson, Mark Wahlberg, Ed Harris, and Anthony Mackie. International fitness celebrity Jennifer Nicole Lee enjoyed a few scenes as a principle Sun Gym Trainer, as she was casted as an aerobics instructor, who in her scene yells angrily at the Sun Gym owner, played by Rob Corddry.
Jennifer Nicole Lee muscled in on the hot "Pain & Gain" action by showcasing her fit physique on the red carpet on Miami Beach. Dressed elegantly in a custom made dress, with cut out side panels, JNL shined in a white body contour dress, with turquoise trim, adorned with gold embellishments. Paired with long flowing locks, JNL resembled old Hollywood glamour with a futuristic Miami beach twist. Her blue and white bracelets and ring matched her dress fittingly.
Jennifer Nicole Lee took the time to sign autographs for her fans who waited patiently for her to arrive. JNL also spoke about her JNL Fusion workout method as seen in a video one fan took and leaked out to the public.
Its been noted in other news outlets that she will be opening up a JNL Fusion Gym in New York City in the near future.
The actress and highly sought after talent was seen in the Wynwood area of Miami the next day at a very well known recording studio where it was reported she was there for voice over work for a major commercial.
Jennifer Nicole Lee's next plans are to visit New York City to meet with major networks for her TV show she is producing called "Jennifer Nicole Lee's Next Fitness Celebrity"