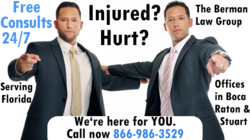 Key West, Florida (PRWEB) April 14, 2013
The Berman Law Firm is proud to announce a new Key West, Florida injury lawyer website helping the citizens of Key West. Key West, Florida, is located at the tip of the Florida Keys, and is a lively destination for many people, but with that said a lot of accidents occur there each year due to its party atmosphere. There is a large opportunity for accidents and injuries not only in Key West, and also in the other surround areas in the Florida Keys. The roads are narrow and there is a lot of traffic on these narrow roads. The new Key West, Florida, personal injury attorney website offered by the Berman Law Group is there to help all accident victims in the Florida Keys. Another main goal of the site is to deliver the help and care to all injury and accident victims, whether they have been injured in a medical malpractice injury, car accident, alleged pharmaceutical injury, or any other type of accident.
The Berman Law Group is headed by brothers Russell and Theodore Berman, who have a passion for helping people who have been wrongfully injured and are not able to seek justice on their own. Russell said in regards to the new Key West injury lawyer website, "We are very excited to announce this new website where our law firm will be able to help all prospective clients find the answers they need and ultimately get the justice they deserve. Our law firm is committed to the community of Key West, Florida, and we are here to help those who can't necessarily help themselves."
For those who are in need of a Florida injury law firm, whether they be in Key West or somewhere else in the state of Florida, contact the Berman Law Group today at 1-877-529-8995 to talk about your case and your options for justice. The Berman Law Firm has offices in Boca Raton and Stuart, but are able to serve the entire state of Florida through their law firm. They are committed to the Florida community and help to fight and win justice for their clients.