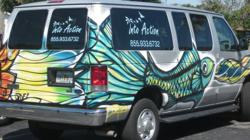 Juno Beach, Florida (PRWEB) April 13, 2013
Into Action Treatment, a drug rehab center in Florida, visited Loggerhead Park for Turtlefest 2013 today as part of their weekend fun for the treatment center. The center was very excited to take their clients out to the ocean conservation park located near Juno Beach, Florida.
Over 12,000 guests joined together at TurtleFest 2013 at the free-admission event which focuses on promoting conservation through up close interactions with threatened and endangered sea turtles, as well as music, art, shopping, educational presentations, games, a Global Village, and other activities.
In its tenth year, TurtleFest 2013 will feature a student art contest for the second year. Palm Beach County students in grades 4 through 12 submitted hundreds of pieces of environmental-themed artwork. A jury awarded a first, second, and third-place for each age submission category, a Best in Show, and honorable mentions. Winners will be revealed at the event and their artwork will be displayed in a special exhibit at TurtleFest 2013.
Andrey Rossin is the founder of the 1 year old Boynton Beach drug rehab center and he was very excited for his clients to get involved and see how many ways there are to give back in recovery from drug addiction. "We are very pleased to be visiting Turtlefest this year and are glad to help out and raise awareness for ocean conservation.
Into Action Treatment is a small 24 bed coed Florida drug rehab center located in Boynton Beach. Into Action is a very unique center, which focuses on long term recovery for addicts and alcoholics. Most treatment centers in the industry are 28 days, however Into Action is a minimum of 45 days, while most clients who complete the program end up staying over 90 days, even if their insurance money has run out. For more information on Into Action Treatment and how they can help those affected with addiction, visit their website at http://www.intoactiontreatment.com, or call their 24 hour hotline at 1-855-933-6732 for free addiction advice and treatment options.