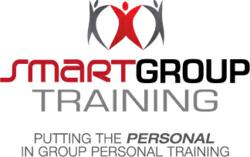 Elizabethtown, KY (PRWEB) April 13, 2013
The founders of Smart Group Training, a company committed to improving the quality of small group and semi-private personal training in the fitness industry, are appearing at today's Elite Training Workshop in Frisco, Texas.
Steve Long and Jared Woolever, who founded Smart Group Training in 2012, are appearing today at the live event, which is being held at Full Throttle Fitness/Fitness Revolution Frisco in Frisco, Texas. The duo joins 3 other notable trainers who are there to help attendees grow their businesses.
"It is our hope that we can make a major impact on the lives of these trainers in attendance through showing them the merits of small group training," says Long. "Our goal is to teach people about how to raise their group training up to the next level."
Jared Woolever and Steve Long joined forces in 2012 to form the company. Smart Group Training has since become a company dedicated to helping personal trainers learn how to join the expanding field of group and semi-private personal training.
The guiding principle for the company throughout its existence has been to show personal trainers how to incorporate group training concepts into their training.
"We believe that by focusing more individual attention on clients, personal trainers can enhance their small group training sessions," Woolever says. "Personal training should still maintain a focus on assessing clients' abilities and programming for their needs."
Today at the Elite Training Workshop in Frisco, Texas Long and Woolever are giving an overview of how they help to ensure that their group training sessions match the caliber of their other offerings.
Joining Long and Woolever at the event are resistance band training expert Dave Schmitz, elite gym owner Eric Cressey, and bodybuilder and training guru Tyler English of Tyler English Fitness in Connecticut.
"These events give us the most remarkable opportunity to work directly with some of the most ambitious and intelligent trainers in the world as they seek to work on their own skills and better the fitness industry as a whole," Jared Woolever says.
Long and Woolever are giving their presentation covering topics in small group and semi-private personal training today at the Elite Training Workshop in Frisco, Texas. The event is hosted by the Fitness Consulting Group.
For more information on the Elite Training Workshop, visit http://elitetrainingworkshop.com/
About Pat Rigsby and Nick Berry: Pat Rigsby and Nick Berry are the co-owners of Fitness Consulting Group, a leading business development consulting firm within the fitness industry.
Smart Group Training is part of the Fitness Consulting Group family of companies. It provides personal trainers, coaches, and business owners with tools to improve the quality and reputation of group personal training.
To learn more about group personal training, visit: http://smartgrouptraining.com/