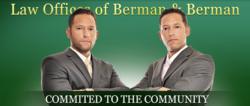 Call Now for Melbourne Personal Injury Lawyers (321) 392-2330
Melbourne, Florida (PRWEB) April 13, 2013
The Berman Law Group is excited to announce a new area that they are able to serve. The Melbourne, FL, area is now served by the Berman Law Group, who provide personal injury lawyer services to Melbourne and the areas around the city, including Palm Bay, Cocoa Beach, Rockledge, and Merrit Island.
The Berman Law Group is headed by brothers Russell and Theodore Berman, who have a passion for helping people who have been wrongfully injured and are not able to get justice on their own. The Berman Law Group are certified by the State Bar of Florida, For those who are in need of a Florida injury law firm, contact the Berman Law Group today at 1-877-529-8995 to talk about your case and your options for justice. The Berman Law Firm has offices in Boca Raton and Stuart, but are able to serve the entire state of Florida. They are committed to the Florida community and help to fight and win justice for their clients in and out of the courtroom.
Established in 2008, the Florida personal injury attorneys at The Law Offices of Berman and Berman have quickly garnered a well deserved reputation as unrelenting and fearless defenders of the rights of their clients. With offices in Boca Raton and Stuart, a driving desire to be among the top attorneys in Florida, and with the ability to serve clients throughout Florida, they strive to treat their clients like friends and neighbors, working diligently to identify and understand the personal and specific wants and needs of their clients.