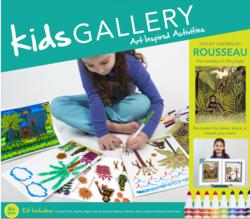 We aspire to make fine visual art reachable and approachable for children.
Wellesley, MA (PRWEB) April 17, 2013
Kids GALLERY is launching its first two art inspired activity kits through the crowd funding site, Kickstarter.com. Kids GALLERY offers a variety of unique and fun activity kits inspired by well-known artists and their works for children ages 6 and up.
Fine visual art is often perceived as too complicated to understand and somewhat unapproachable to children. Studies show that exposing children to art and artworks at a young age is important in developing creative and critical thinking. However, with the decline of arts education in US public schools, young children today are less exposed to the fine visual arts, missing great opportunities to further develop those skills.
Kids GALLERY's mission is to introduce children to well-known artists and their works, while developing their imagination and creativity. Each kit includes a masterpiece print, activity sheets, and the necessary art supplies. Inspired by the masterpiece, children will learn, experiment, and recreate their own artwork, to then be displayed alongside the original in a designed double-frame provided, giving respect to the "young artist" and to the original piece. The kits are packaged and sold to consumers as well as to classrooms.
The company's first two kits are: 'Degas' Ballerinas' and 'Rousseau's Monkeys in the jungle'
"We aspire to make fine visual art reachable and approachable for children." says Adi Reske, Co-Founder. "We aim to provide an easy access to our kits via our online store, local and national retail stores and be available in classrooms (with a repackaged kit at a lower cost) giving more children access to famous artists and masterpieces. We also plan to work with young American artists, making art even more approachable by using artwork that reflects American contemporary culture and life."
About Kids GALLERY
Kids GALLERY was founded by husband and wife, Adi Reske and Adi Bachar-Reske, parents to a 6-year old and a 2-year old. The idea behind Kids GALLERY began when their 6-year old "recreated" an artwork she saw after a visit to an art museum. This made them think: What if they could introduce her to the wonderful world of fine visual arts through the format of an activity kit?