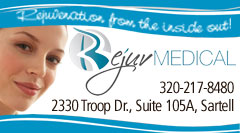 Minnesota (PRWEB) April 29, 2013
Rejuv Medical, under the direction of Joel Baumgartner, MD., is offering Platelet Rich Plasma (PRP) injections to people suffering from chronic or acute pain. The company, which provides an array of sports medicine and physical therapy services in Minnesota, is launching the PRP service after a spike in weather related joint pain. More here: http://www.rejuvmedical.com/pages/OrthopedicSportsMedicine/.
"There are many reasons to obtain a PRP injection. Athletes and seniors benefit the most from this treatment, but so do people with joint issues or even tennis elbow," said J.R. Burgess. "PRP can be a great alternative to surgery. The goal always is to repair, promote development of new blood vessels, and stimulate the wound healing process resulting in new collagen formation."
People in Minnesota are invited to contact Rejuv Medical to discuss if the PRP injections are the proper option for their specific circumstances. Members of the media can discuss trial options of the service upon health and credential qualification. Please contact Helene Vece, Media Manager, at 702-749-5925 ext. 210 for further details.
Rejuv Medical specializes in Orthopedic and Sports Medicine, weight loss and fitness, anti-aging procedures, and is dedicated to global health care through the company's charitable efforts.