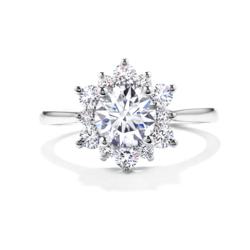 Secret Sapphire carry's the worlds most perfectly cut diamond
Vancouver, BC (PRWEB) April 16, 2013
Secret Sapphire Luxury Jewellery is a new boutique jewelry store and concept that is located in the beautiful city of Vancouver, Canada. It specialises in custom design jewellery and rings. They have an in-store GIA Graduate Gemologist and Jewelry Designer - Monica Tsao. The store was opened in November 2011 by wife and husband duo Monica and Philip.
They carry a range of brands which will undoubtedly appeal to all who go there. These brands include Hearts On Fire, Scott Kay, Lusciouss, Lori Bonn, Christophe Danier, Margo Morrison and Monica Tsao's own line.
Secret Sapphire carries the world's most perfectly cut diamond so for those who want the best then look no further. Hearts on Fire Diamonds are cut perfect to a power or magnification of x100, this is x10 times better than a normal diamond. So picked out that special rock? Make sure its chosen from one of the most exclusive Vancouver Jewellers around, they will help set it into a beautiful engagement ring.
When walking into Secret Sapphire for the first time a feeling of fascination hits, brought on by the luxurious and exquisite setting which is a mix of old Victorian and modern concepts. The second thing that is noticeable is the staff and a smile. It is a jewelry store which is welcoming and inviting and can suit anyone's budget.
To get in touch with them just give them a call on 604-558-3638 or email them at info(at)secretsapphire(dot).ca.