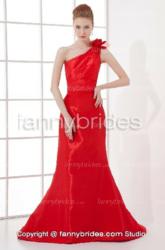 (PRWEB) April 14, 2013
FannyBrides.com, a leading wedding dresses manufacturer and retailer, today releases 27 new A-line evening dresses to its evening dresses 2013 collection, and announces the grand savings along with affordable prices on these new dresses.
The new A-line evening dresses feature trendy designs, gorgeous looks, quality materials and fine tailoring, and they are available in 26 colors: blue, purple, yellow, and more. The rapidly evolving customer-oriented products and services have helped FannyBrides become one of the world's leading brands of women's dresses.
"We know that each lady wants to show off her best figure, particularly at a party. For any young woman, it is a good opportunity to leave an everlasting impact on all of her friends. So, we release these new dresses," says, Winson Yuen, CEO of the company. "Now, all the dresses are offered at discounted prices. Especially for those with a limited budget, FannyBrides must be an ideal place to buy evening dresses online."
Winson Yuen adds, "Shop online for the latest styles of evening dresses for your party here. FannyBrides has some of the most stunning evening dresses for you to choose from. Now browse through our catalogue and each customer can enjoy a discount, up to 58% off, if she places an order during this month."
About FannyBrides.com
FannyBrides.com is a distinguished wedding dresses manufacturer and retailer, offering a wide range of cheap prom dresses, bridesmaid dresses, evening dresses, cocktail dresses, and more. The company aims to deliver women worldwide all kinds of dresses at affordable prices.
More information can be found at: http://www.fannybrides.com/