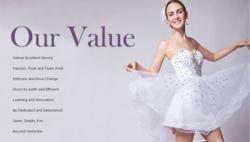 (PRWEB) April 14, 2013
Today, Dresses1000.com, a well-known wedding dresses manufacturer, releases 35 new sweet 16 dresses to its product line. Sherri Wang, CEO of the company says that they will release new designs to enrich their product base every week.
The new sweet 16 dresses feature fashionable designs, quality materials and fine tailoring, and they are available in 28 colors: blue, yellow, purple, etc. In addition, all these dresses are available at greatly discounted prices. For example, one of the dresses, A-Line/Princess Sweetheart Short/Mini Chiffon Sweet 16 Dress With Beading, was previously priced at $328, and it is offered at a new discounted price of $158.
"Our new designs of sweet 16 dresses will make you look like a popular star or an elegant princess at your sweet 16 birthday party," said, Sherri Wang, CEO of the company. "Moreover, we are offering great savings, 48-68% discounts, on all our sweet 16 dresses, which follow fashion trends while staying true to classic and unique taste and style. For those with a limited budget, they should visit our online store as soon as possible, because stock is limited."
Dresses1000.com is offering all kinds of women's dresses and wedding accessories, including wedding guest dresses, Quinceanera dama dresses, bridesmaid dresses, evening dresses, and more. The addition of the new sweet 16 dresses will definitely add flowers to the brocade.
About Dresses1000.com
Dresses1000.com is a professional manufacturer and retailer of all kinds of women's dresses (wedding dresses, bridesmaid dresses, and more). Its mission is to 'make ladies more attractive' by offering stylish and high-quality women's dresses to each woman. The company is trying to offer their customers more choices with affordable prices.
For more information, please visit: http://www.dresses1000.com/