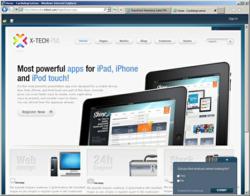 (PRWEB) April 18, 2013
Intlock is organizing a 30 minute webinar on the Voice of Customer tool on May 8th at 1:00 PM EST. During this time you will gain insight to how enhanced surveys, page-based comments and website satisfaction pools work. CardioLog Analytics Voice of Customer is a unique and interactive 2-way communication tool and currently the most efficient way to communicate with end users.
This webinar is also a great opportunity for all consumers of Voice of Customer to view additional features and learn how to maximize its use on their SharePoint websites. All users that have decided to move up to SharePoint 2013 can decide how compatible VOC is with the new SharePoint versions. CardioLog Analytics VOC 2.0 supports all SharePoint environments such as SharePoint 2013, 2010, 2007, 2003, and Office 365 as well as SharePoint Online.
"We are very excited to present this to the public. Everyone that comes to the VOC 2.0 Webinar will be amazed at all the improvements." Carol Stevens, Marketing Manager at Intlock
Registration for this webinar is free of charge. To sign up, click on the following link:
https://www4.gotomeeting.com/register/525257056
About Intlock
Intlock was founded in 2005. Ever since, it has been a leader in analytical solutions for SharePoint Intranets and Internet websites. As the company's flagship product, CardioLog Analytics set Intlock apart and put it ahead of the competition. CardioLog provides organizations with insights on how their SharePoint portal is being used, and helps optimize the portal. As organizations started to expand, so did the use of SharePoint to public facing websites. A demand grew for marketing tools designed for SharePoint, which led to the release of the SharePoint Marketing Suite, which includes a wide range of marketing solutions for enterprise-level websites.
Today, Intlock products support all of the SharePoint versions, including the new 2013 edition. They offer a variety of insightful features and tools to help optimize portal and site productivity, as well as maximize the ROI.
Intlock, based in Boston, Massachusetts, has offices and partners throughout the world. Some of the customers utilizing these products are large worldwide enterprises such as Applied Materials, Fidelity Investments, and US Department of State. We also offer a variety of packages for small business and NGO's.
###
If you would like more information about this topic, please contact James at +1-617-500-8461 (US) or email us at info(at)intlock(dot)com or james(dot)wright(at)intlock(dot)com.