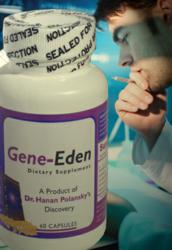 My sense is that both men and women need to be more conscious of the problems HPV can cause. - Mike Evans, polyDNA
Rochester, NY (PRWEB) April 15, 2013
HPV is normally associated with genital warts and cervical cancer. However, it has also been linked to anal cancer. In a new study it was found that while "both sexes saw an increase in anal cancers, the rate for men jumped most dramatically." (1)
"I think the literature has already shown that there has been an increase in anal cancer cases, but we were surprised to see how dramatically it increased" said Dr. Lily Lai, lead author of the study. (1)
According to the Mayo Clinic, "anal cancer signs and symptoms include bleeding from the anus or rectum, pain in the area of the anus, a mass or growth in the anal canal, and anal itching. The signs and symptoms of anal cancer aren't specific to this disease. Some people mistake their signs and symptoms for more common conditions, such as hemorrhoids, and don't see their doctors." (2)
A persistent HPV infection is usually cleared from the body within a two year time frame. (3) However, some people may go on to develop severe health problems like anal cancer.
"My sense is that both men and women need to be more conscious of the problems HPV can cause. This is a virus that doesn't cause problems all at once. Most people don't even know they have it. It sneaks up on you and then you have cancer. People need to take steps to prevent that from happening." – Mike Evans, polyDNA
In light of these findings, polyDNA recommends that men and women learn more about Gene-Eden-VIR, a safe, natural HPV remedy with no reported side effects that is designed to boost the immune system against the latent HPV virus.
By helping the body's immune system target the latent herpes virus, people also lower their risk of developing genital warts and may also help prevent cellular changes that could lead to various forms of cancer including anal cancer.
A recent post marketing clinical study showed that 70% of Gene-Eden-VIR users reported a reduction in HPV symptoms, including genital warts and cervical dysplasia. The results of this study can be read here: http://www.cbcd.net/Gene-Eden-VIR-Clinical-Study.php.
To learn more about Gene-Eden-VIR, the only all natural, HPV remedy with scientific backing on the market today, visit: http://www.gene-eden-kill-virus.com.
References:
(1) http://jco.ascopubs.org/content/early/2013/03/18/JCO.2012.45.2524.short?rss=1
(2) http://www.mayoclinic.com/health/anal-cancer/DS00852/DSECTION=symptoms
(3) http://www.cdc.gov/hpv/signs-symptoms.html
###
polyDNA is a biotechnology company that develops dietary supplements using the unique scientific method developed by Dr. Hanan Polansky, which is based on Computer Intuition.
In addition to his unique scientific method, Dr. Polansky published the highly acclaimed scientific discovery, called Microcompetition with Foreign DNA. The discovery explains how foreign DNA fragments, and specifically, DNA of latent viruses, cause most major diseases.
polyDNA developed Gene-Eden-VIR, an antiviral natural remedy that helps the immune system kill latent viruses.