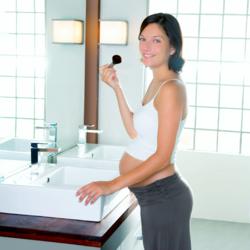 Safety in pregnancy is my expertise.
Los Angeles, CA (PRWEB) April 15, 2013
Recently it has been shown that when a baby is born they may have over 200+ toxins in their blood. Dr. Vik Sachar recognizes that toxin burden in newborns can affect our children later in life. Obesity, asthma, diabetes and other ailments may be increased because of toxin exposure of the mother during pregnancy.
Dr. Sachar has created a cosmetic line to give pregnant women a choice during their pregnancy. Now they can use cosmetics that are safe in pregnancy and non-toxic to both the mother and the baby.
There is no other cosmetic brand in the world dedicated to the safety of the mother and baby during pregnancy. Dr. Sachar joined forces with elite makeup artists in Hollywood to create unique shades for every complexion and ethnicity.
"We wanted to give all pregnant women a safe alternative for their cosmetic choices."
The cosmetic line will launch in July 2013 on VSacharMD.com.
He has written an ebook Makeup and Pregnancy that is complimentary and currently available on the website.
Dr. Sachar has also started a blog to create an interactive forum with pregnant women where they can ask questions relating to the pregnancy, cosmetics, and other topics.
With his expertise in High Risk Obstetrics, Dr. Sachar also regularly blogs about issues that every pregnant woman should be aware of during their pregnancy. This education serves to empower them with the knowledge they need to know to have a safe and successful pregnancy.
Dr. Vik Sachar completed his Maternal Fetal Medicine training at the prestigious University of Chicago, Pritzker School of Medicine. He is the Chief of Obstetrics and Gynecology at his hospital and is regularly recruited for his expertise in quality assurance.