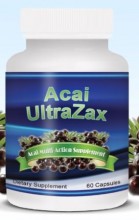 Port Saint Lucie, FL (PRWEB) April 15, 2013
The myriad of benefits that individuals get from supplementing the body with the Vitamin B complex have led several health experts to advocate their proper consumption. One of them, Vitamin B6, also known as Pyridoxine, offers an interesting array of benefits for the physical and mental functions of the body. It is therefore not at all surprising that more and more people intentionally take Vitamin B6 supplements. Fortunately for dieters, Acai Ultrazax from Bignutrition has come up with the bright idea of adding Vitamin B6 to their already interesting list of ingredients, promising more effective and safe weight loss.
Vitamin B6 offers several health benefits - from the infants to the elderly. For babies, B6 is an essential vitamin that helps neurotransmitters that send impulses from the nerves. Deficiency in Vitamin B6 is known to produce symptoms such as confusion and headaches. This Vitamin is also essential in breaking down and synthesis of hemoglobin and white blood cells. Hemoglobin is important for carrying oxygen throughout the blood stream, while white blood cells are vital for the body's immune system.
Vitamin B6 is an important component for weight management. Vitamin B6 prompts the production of serotonin, melatonin and norepinephrine, hormones which affect the different bodily functions as well as mood. In the same light, adequate amount of Vitamin B6 may prove beneficial for weight loss and proper metabolism. Pyridoxine is important in order to synthesize the fats and proteins from the food we eat. It speeds up metabolism by digesting fat quickly and efficiently. While this is happening, Vitamin B6 also helps keep the level of potassium and sodium within a healthy range.
It is important for dieters to have a healthy blood sugar level by having enough amounts of Vitamin B6 in the body. This vitamin helps in the conversion of carbohydrates into glucose which the body uses as fuel for energy. Another important aspect of Vitamin B6 where weight loss is concerned is how it affects the thyroid gland. The thyroid is important in regulating how the body spends energy as well manages how oxygen in the body is being utilized. Properly-functioning thyroid glands also help the body have a higher resting metabolic rate. Given all these reasons, it is easy to see why Vitamin B6 is a good addition to BigNutrition's Acai Ultrazax ingredients and how it is able to optimize the potential of this supplement for weight loss. Acai Ultrazax can be purchased direct from BigNutrition.com or from major retailers like Amazon.