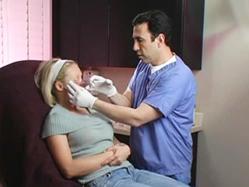 Los Angeles, CA (PRWEB) April 14, 2013
As reported in a May 2013 interview in Harper's Bazaar magazine, Gwyneth Paltrow admits to having undergone laser skin resurfacing and Botox treatments. Paltrow, however, says that she wouldn't do Botox again because "I looked crazy." (go to: goo.gl/sbxhW)
"I think it's probably safe to say that Gwyneth wasn't shopping for a bargain when she chose a doctor for her Botox treatment," says Dr. Simon Ourian, Medical Director of Epione Beverly Hills. "It seems likely to me that she paid top dollar for her treatment. And if she did really 'look crazy' after receiving her treatment, it shows that, at least in this instance, there isn't always a correlation between the price paid and the results yielded."
Gwyneth also admits to having undergone a non-invasive "laser" treatment called Thermage. Thermage is not, in fact, a laser treatment but a device that uses radiofrequency energy to improve the appearance of loose or sagging skin. Gwyneth told Harper's that the treatment was quite painful, but that she was able to go out to dinner right afterward.
Having been a Black Diamond provider of Botox, it's very important to Dr. Ourian that prospective Botox patients be prepared to choose the best practitioner for their treatment. The Black Diamond designation is awarded to the top 1% of injectors by Allergan, Inc., the manufacturer of Botox.
"I created a six-point Botox checklist that I believe is a must-see for anyone interested in getting Botox," says Dr. Ourian. "Of course, the most important item on the checklist is choosing the best doctor for your Botox treatment. But notice that I don't even mention price as a criteria. The most important things to look for, in my opinion, are breadth of experience and the recommendations of friends and family."
Dr. Ourian has been a pioneer in laser technology and non-invasive aesthetic procedures including Restylane, Juvéderm, Radiesse and Sculptra. These treatments are used for the correction or reversal of a variety of conditions such as acne, acne scars, skin discoloration, wrinkles, stretch marks, varicose veins, cellulite, and others. More information about Botox can be found on Epione's website.