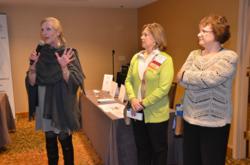 As an organization that supports information professionals who are themselves often in transition, we are happy to help Dress for Success support women transitioning into the workforce. - Jocelyn Sheppard, President, AIIP
Denver, CO (PRWEB) April 15, 2013
The Association of Independent Information Professionals (AIIP) has announced that its 2013 Dress for Success initiative was a success, with members contributing nearly $1,500 as well as donating many items of apparel and accessories to the organization. More than 100 AIIP members and colleagues attended AIIP's 2013 conference, held at the Westin Denver Downtown on April 3-7.
AIIP each year selects a community group to be the beneficiary of a "give-back" effort to thank the city hosting AIIP's annual conference. Next year's conference will be held in Baltimore, Maryland, on April 2-6, 2014.
Dress for Success (DFS) is an international nonprofit organization with affiliates in more than 120 cities worldwide. DFS promotes the economic independence of disadvantaged women who are joining or returning to the workforce by providing professional attire, a network of support, and career development tools to help women thrive in work and in life. Clients are outfitted to make a great first impression at interviews and land jobs that change their lives. The Denver affiliate assists more than 1,500 women each year.
The donations drive was catalyzed by a matching gift challenge offered by Jocelyn Sheppard, Principal of Red House Consulting and new AIIP President.
"As an organization that supports information professionals who are themselves often in transition, we are happy to help Dress for Success support women transitioning into the workforce," said Jocelyn Sheppard. "Many disadvantaged women just don't have the means to go out and buy a suit when they are unemployed. That's why initiatives like Dress for Success are so important."
"Having a matching donor really helped to create an added incentive toward the success of this year's give-back effort," said Connie Clem, 2013–2014 AIIP President-Elect.
Dress for Success Denver Executive Director Donna Deteau thanked AIIP members at the conference, noting, "Dress for Success Denver normally receives a $250 to $300 donation from groups this size. You donated three times that much. And I guarantee that the clothing you've donated will be off our racks within a week." Later she added, "It's clear to me that AIIP is a very special group of people. Even after the conference, we've continued to receive more checks and more online donations. Your members are amazing!"
The Rocky Mountain Chapter of the Special Libraries Association (SLA, http://www.sla.org, rockymountain.sla.org) also was a partner in the donation drive. Many information professionals are members of both AIIP and SLA.
About AIIP
The Association of Information Professionals (AIIP, http://www.AIIP.org) is the premier industry association for independent information professionals. The membership consists of more than 500 owners from around the world whose firms provide research and consulting services across a wide variety of industries. Business research, competitive intelligence, market analysis, database development, training, and information management consulting are just a few of the areas in which AIIP members specialize. Some of the vertical industries AIIP members serve include scientific, medical, pharmaceutical, regulatory, information technology, education, financial services, manufacturing, nonprofits and life sciences. A directory of members is available at: http://www.aiip.org/content/hire-info-pro
Media Relations/Public Relations Contact: Jeff Mustard – cell: 954-801-8263; email: Jeff(at)TheBambooAgency(dot)com; http://www.TheBambooAgency.com
For more information about the Association of Independent Professionals, contact AIIP Headquarters, Baton Rouge, LA; 225-408-4400, email: office(at)aiip(dot)org
About Dress for Success Donations to Dress for Success Denver can be made online at http://www.givingfirst.org/DressforSuccess, or sent by mail to Dress for Success Denver, 1510 High Street, Denver, CO 80218. Contact Donna Deteau, Executive Director, at 303-832-2531.
More information about the worldwide Dress for Success organization is available at http://www.dressforsuccess.org.
The direct link to the Denver affiliate of Dress for Success is http://www.dressforsuccess.org/denver